Aliko Dangote goes into exile…. As Judge declares him wanted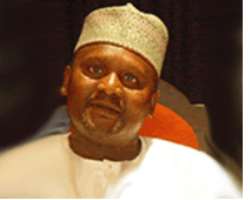 Forbes List billionaire, Alhaji Aliko Dangote has learnt that in indeed the law is no respecter of persons. For failure to show up in court today, as prescribed by a Lagos federal high court presided by Justice James Tsoho, the billionaire was declared
 wanted.
Delivering his ruling, Justice Tosho said that Alhaji Dangote, who stayed away from the court's last deliberation, was in perpetual contempt of court and ordered him to be arrested and detained till October 26 th .
Huhuonline.com checks reveal that the once powerful Dangote has fled to Dubai, a country that has no extradition treaty with Nigeria. However, sources told that the court may enlist the services of Interpol, if necceasy, to execute its warrant.
Nevertheless, Aliko Dangote becoming a fugitive from Justice, will negatively impact Dangote Groups, as he must sign approvals above five thousand naira. said a company source.
 
It is recalled that Justice Lambo Akanbi had on March 12, 2010 , nullified the election of Dangote as the President and Chairman of the Council of NSE following an application by some shareholders of African Petroleum (AP).
The shareholders had argued then that after a court had on August 4, 2009 , ordered all the parties to maintain the status quo in a suit they instituted, challenging Dangote's membership of the Council of NSE, the NSE went ahead and conducted its election on August 2009, where Dangote allegedly emerged president. An action that made the shareholders, in a form 49 (motion for committal) filed a suit against Dangote, Okereke-Onyiuke and Igbinosun, saying that the trio conspired by allowing Dangote to preside over the affairs of NSE despite the existence of the order.
At the court proceedings, counsel representing Dangote, Ricky Tarfa (SAN) had argued that before the court can consider the issue of contempt, it must first entertain a motion challenging its jurisdiction to entertain the case by citing the judgment of the Supreme Court in the case of Ebhodaghe and Okoye.
But in his response, Aniakor, counsel for the shareholders, flawed Tarfa's argument, saying it was not the true position of the judgment of the apex court and urged the court to issue a warrant for the production of Dangote and Okereke-Onyiuke, who were absent in court.
'The Supreme Court added a proviso to the judgment to the effect that in the event that if there was an application seeking to protect the integrity of the court and another one challenging the court's jurisdiction, the court would have to first determine the one that had to do with its integrity.'
After reviewing all the arguments by both counsels, Justice Tsoho upheld Aniakor's submissions, and held that the contempt proceedings must take precedent over any other application, being the one seeking to protect the integrity of the court.
In addition, the court  has struck out the name of Ndi- Onyuike  from the case.