Plateau Doctors Continue Strike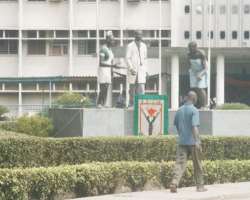 JOS, July 28, (THEWILL) - Resident doctors in the employment of Plateau State government have differed with other resident doctors in the country as they have vowed to continue with the strike they embarked on over a month ago.
Resident doctors nationwide had called off their strike last Sunday.
The Plateau doctors say they want to continue because the Plateau State government has refused to open dialogue with them over their grievances which informed their decision to go on strike.
The President of the doctors' association, Dr. Dablet Ezra said they are free to continue with the strike since the national body of the association has directed its state chapters to continue with the action if their state governments fail to act.
"The national body of the ARD has instructed that for the states that have not been engaged in any reasonable discussion by their state governments or have not implemented CONMESS would continue with the strike, we have a letter to back up this, and in fact a copy was even sent to the governor from the national level. We heard that some states have reached a reasonable level of negotiating with the doctors, but here in Plateau State nothing has been done, therefore we are complying with the national directive to continue with the strike." the doctor said.