N4 Billion Contract Scam rocks, NIMASA, NPA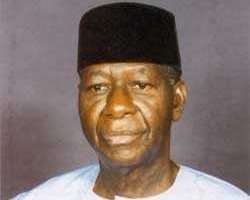 Alhaji Yusuf Sulaiman, Transport Minister
Desperate to keep his job as Director General, Nigerian Maritime Administration And Safety Agency (NIMASA), Temisan Omatseye has embarked on a contract award jamboree to cronies and lobbyists whose mandate is to put pressure on President Goodluck Jonathan to stave off his sack.
advertisement
This is coming on the heels of indications that chairman, Nigeria Ports Authority (NPA), Tony Anenih has continued the tradition of contract inflation at the agency perfected by ex-chairman, Bode George jailed for a whooping N84 billion contract inflation scam.
Omatseye was fingered by security reports for aiding the escape of fugitive James Ibori through the waterways.
It was learnt that after the death of late President Umaru Yar "Adua and the escape of Ibori, Omatseye has been left in the cold to fight for his life. In desperation to remain as Director General, yielded to outrageous demands from lobbyists and some PDP stalwarts.
According to a source within the agency "as soon as President Yar'Adua died and Ibori escaped the man has become restless and some PDP people have been coming around to get contracts with the promise to help him keep his job."
The NIMASA boss, an Ibori lackey and nominee was made DG sequel to Ibori's recommendation to late President Umaru Yar 'Adua. This came after he (Ibori) engineered the sack of former NIMASA boss, Shamsideen Dosumu. He got on the wrong side of the senate committee on transport when he resisted attempts by the committee to make him inflate the agency's budget.
The source added "You know Ibori recommended him here after Dosunmu disagreed with the Senate and the fall of Ibori means he no longer has god-fathers anywhere so right now he is so desperate to keep his job by any means possible."
Dosunmu led Nigeria back to the Council of the International Maritime Organisation (IMO) and initiated the National Seafarers Development Program (NSDP); a scholarship program aimed at encouraging Nigerians pick up careers in the shipping sector.
Pointblanknews.com learnt Sunday that so far, Omatseye has awarded a string of dodgy contracts to top PDP men and others, to the tune of $27 million. The contracts include costal surveillance, maritime security, search and rescue, maritime pollution prevention and receive and remove wrecks.
It was learnt that Transport minister, Yusuf Suleiman and Executive Director, finance and administration, Niran Aderogba are in on the deals.
Anenih, in concert with NPA boss Abdulsalam Mohammed have awarded several inflated contracts to the tune of N10 billion. Mohammed who has also been slated for sack by Jonathan, also has an ally in transport minister, Alhaji Suleiman Yusuf.
Pointblanknews.com also gathered that Suleiman and Anenih are doing all they could to stop Jonathan from sacking Omatseye and Mohammed.