Ann Chiejine: Still Blazing the Trail.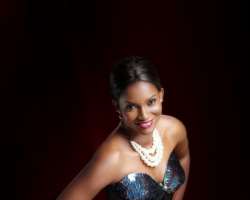 Many Nigerians still remember her as Ann Agumanu, she was the goalkeeper to the Super Falcons team for 15 years and a delight to her fans all through the period she was in the team. Ann Chiejine and Nigeria have had a long relationship. She came into limelight in 1991, when she kept the goal for the Super Falcons at the first FIFA Women's World Cup in China. While she was keeping, Nigeria won the African Women Championship six times and went to the world cup for the third time consecutively.
Recently,our team traveled down memory lane thinking of how our female national team has made Nigeria proud, especially in the African Women Championship.
Ann is presently the assistant coach and the goalkeeper trainer of the Super Falcons team; a job which she merits by undergoing several professional trainings.
When it was confirmed that we would have an exclusive interview with her, we were thrilled. As we planned and waited for the day to arrive, our anticipation reached the climax especially as we knew she wasn't comfortable with a photo shoot. We asked ourselves, what would she look like in a dress? What would she look like with makeup?
Ann didn't disappoint. With a grace that surprised us, she took the styling and photo shoot in stride, almost like a professional model. The interview session was also refreshing, as she attributes the success she achieved as a goalkeeper to God, her love for the game and the support from her family.
Joan: Tell me, how prepared are the Super Falcons for the African Women Championship (AWC)?
Ann: We are prepared. At least we went to Côte d'Ivoire, played against them and trashed them. They came here too and at the end of the day we won 3-1. The preparation is about to start right now, we still have some time. As soon as the World Cup is over we are going to start … much earlier than what we have been doing.
J: Before now the Nigerian Super Falcons used to win the AWC, we have won it six times but lost the 7th one when we lost the semi-final game to Equatorial Guinea. Why did that happen?
A: People have been asking and I've been telling them it is even better we did not win because if we had, then we would have had big problems because everybody was against us. They played two men against us and they were not friendly, they were very hostile to us. Even for us to train on the pitch before the match was a very big problem. I think it had already been planned that the Guinea team will be the winner, if we had won, we would have had bigger problems but I know they are keeping it for us and we're going to go to South Africa to get it back, it's just one of those things. I have been telling Nigerians, sometimes you win and at other times you lose, it's a game, and if we've won the tournament for the fifth consecutive time, then they should listen to what happened. Nevertheless, we played well; it's just that there were many forces against us.
J: I like what you said about them keeping it for us. But the issue now is, has those factors you mentioned that led to the Super Falcons losing the game been corrected, the one with Equatorial Guinea?
A: Well, it shouldn't be our problem; it's to do with the CAF. All we know is that we had so many problems playing 2 men and CAF didn't do anything about it. We are parading new players and a little bit of old players. I also believe that with the players we have now, we'll be able to trash any team that comes our way.
J: You talked about playing with two men, how's that?
A: They said they are hermaphrodites but we knew that they are not hermaphrodites, they are men.
J: And CAF is not doing anything about that?
A: Even the Côte d'Ivoire people, in the match we played, there was a man in there.
J: So who checks for things like this?
A: I do not know. To avoid confusion, since it's a women's game and not for women and men together but I believe they are going to do something about it before it goes crazy. Let's see what will happen before the tournament.
J: How long did you play before you retired?
A: I played from 1991 to 2006.
J: Now back to you, why did you decide to be a goalkeeper instead of a defender, middle fielder or an attacker?
A: I was thinking of becoming what we call outside left but now it's called attacking left. But I was playing outside right, which is number seven, outside left is eleven. In the team I was playing, they introduced me into the game about 5 minutes to the end of the game and I wasn't happy about it. Then the coach came to me and said I had the height so I should start training for goalkeeping. I wondered where I was going to start from but maybe that's how God wanted it because about two to three weeks after I started training they started Lagos state competition and before I knew I was one of the best goalkeepers. That's how I got to the national team.
J: When you started playing football what was the reaction from your family?
A: It was so bad that they had to bring a doctor to come and check if I would bear children. They were also worried that I would grow muscles and not get a husband. You know then they believed that football was for men only. And that's what we've been clamoring for, that parents should allow their children to play football, whether they are boys or girls. My parents weren't easy on me, it got to the point that they threatened to send me to the village until the doctor assured them that I could get married, have children and not grow muscles.
Again you know everybody is not the same and we don't have the same body type, if you subject yourself to rigorous activities and body building, you'll grow muscles. But for me, I always remembered what my daddy told me, because he made me to be so afraid, when he said playing football will make me grow muscles and not find a husband and bear children. So, I've been very conscious of that because at that time, I really wanted to be like a man. I was a tomboy at school; I partook in high jump and long jump, and every game that boys played.
J: How long did you play football before you got married?
A: I got married in 1992. I started playing for the female national team in 1991 for the first female World Cup that year. Even after I got married, I went to Sweden and US World Cup. I was married then and still bearing children and I didn't have any problems.
J: What about your husband, doesn't he complain?
A: It's all about understanding each other and then he knew that was what I loved doing. So, it was a case of, why should I stop her when that is what she does best? It's not easy but he understands. Out of hundred men, you can only get one. Like now, I've been out of the house for the past two months, camping. I've never had any issues with him. Sometimes he says I'm missing you, I'm married but single. By December, it will be 18 years since I got married. I have a good and loving husband and children who understands why I have to be away from home for that long. That is why when I get back, I don't like leaving them.
J: How many children do you have?
A: I have four children, two boys and two girls.
J: You don't look like you have four kids.
A: That's what sport does for you.
J: You are a beautiful woman. Do you do all the girly things like face cleansing, spa treatments?
A: (Laughs) I don't do all that, though I try to use cleansers. I don't even have time because by 5:45am, I'm up, I take my bath and by 6:00am I'm in ball. By 7:00 I'm on the field. By 10:00am/10:30am I'm having breakfast… until 6:30pm before I'm done. So what time do I have to take good care of myself?
J: You started a football academy recently. Why an academy?
A: Talking about building players, if you have a player of about four or five years and he/she is in the academy, by the time the player is thirteen, he/she already knows the rudiment of the game. It won't be the same for a boy of about 17 who just wants to start playing the game. Many players don't know the basics of football such as juggling, nodding, chesting, ball control and so on. If we have players who have these qualities, the only thing a coach will need to impact on him is the tactical aspects of football because he already knows the technical aspect. When these players are groomed from a young age, they we will make a better team.
J: So what is the curriculum like, do they get to do regular school work too?
A: Yes, our programme doesn't affect their school work. The children here are students from one school or the other; they only come on Saturdays for trainings unless they are on vacation. When they are on vacation, they come on Mondays, Wednesdays and Saturdays between 7am and 9am. Adult come in as from 9am. The children have to be from four years upwards. We like catching them young and teaching them the rudiment of the game. I tell you, we have some small kids who don't even know how to pass; we also have some who are very slow in grasping so we have to take our time to teach them. We can be on control and pass for two months until they are okay with it before we move on.
J: So do you have world class equipment for training?
A: We do, like the balls, cones …for the ones we don't have, we improvise.
J: How many children do you have presently?
A: We started with nine but now we have about 52.
J: What are the notable achievements since you started your academy?
A: For now we are not looking at the achievements, we are trying to build them up. Let them know how to play first before we start thinking about the achievements, for example a boy of 4 years barely knows how to play but when he gets to 10 to 15, then he already know how to play. We can now start thinking of the national team. For now they don't even know if they want to play football, all they know is to come and catch some fun. We want them to love the game first; when they love the game, they can now decide what they want to do.
J: How would you describe your experience as a goalkeeper and now that you are a coach, what's the major difference?
A: When I was keeping, I used to receive instructions from my coach but now that I'm a coach, I find my self imparting my experience and skills to the players. If I hadn't been there, they won't understand when I give them instructions but when I tell them to do it this way or that, they understand because I've been there. For some, I'm a role model; they want to be like me. I also enjoy what I'm doing and find it easy to get along with the players.
J: So in the next 5 years would you still want to be a coach?
A: I would love to pursue my career as a coach. I'm looking beyond here. I'm thinking one day, I will be one of the coaches for the national team for England or US.