KIDNAPPING IN THE SOUTHEAST NIGERIA: OHAKIM GOOFED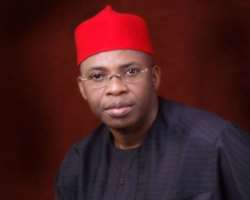 PHOTO: MR IKEDI OHAKIM, IMO STATE GOVERNOR.


I was horrified by the recent statement credited to the Executive Governor Ikedi Ohakim that the kidnapping in the southeast is as a result of the recent stock and banking crisis that occurred in Nigeria. This statement currently shows the kind of stuff that Ohakim is made of. One could not help but sympathize with Imo people who he may govern for some time to come. One could not also help but blame the kind of system and structure which will bring up people like Ohakim to such elevated positions as governorship.
By this statement he has portrayed himself as a political leader who is uninterested and completely out of touch with the fate people he governs. Obviously he has other things motivation him to continue to hold sway in Owerri and good governance as good governance is at the bottom of his priority list. But with the stories of his "commando" reign, it may be easy to find a reason for such kind of statement. But the question to ask Ohakim is whether only Ibos invested in the stock market. Why has not there been kidnapping in Ibadan, Oshogbo, Abeokuta etc?? Even in Sokoto or Maidugiri?
For those who know the truth, this who issue of kidnapping started in the south south zone of Nigeria in particular in Port Harcourt a few years ago. The initial target was expatriate oil workers, and then it started spreading Nigerian oil workers especially their kids and wards etc. And so every one of us put up this sidon look,not-in-my back yard, I-do-not-care attitude until it gradually grew of a national emergency.
One important thing is that in most of the initial cases of kidnapping, unconfirmed ransom were paid running sometimes into millions of naira. That now started making the "business" popular in Port Harcourt and so it started spreading to other areas including the south east. Another important point is that the south east and south-south are very integrated. In fact Port Harcourt may be out of the cities outside Iboland that has a high concentration of Ibo people. Naturally the bad eggs among Ibos living in these areas joined the kidnappers naturally. And because it an "easier way to get cool cash" (I can imagine) without going on armed robbery, it was easy to recruit criminal minded followers everywhere including Ibo land. And therefore when the police and joint task force (JTF) began a crack down on the kidnappers around the Port Harcourt area they migrated to the east, multiplied and modified their tactics.
And so one of the reasons why these kidnappers are still terrorizing the southeast is because of the neglect of the south east governors (including Ohakim) to implement a coordinated security strategy in the whole zone. Rather they find easier spending these resources congratulating themselves everyday in the national dailies to prove how popular they are and erecting billboards with their faces in all the nooks and crannies of the state capital with water and electricity. I will not dwell on the unfortunate collaboration of some dishonest community leaders and community representatives in aiding these heinous crimes. That has been a subject of media reports lately. Otherwise how would you comprehend the fact that faceless kidnappers respond to media reports on the amount of money that were collected from their hapless victims?
Governor Ohakim's statement is a big slap on the face of Ibo people. We are known for our entrepreneurship and industry and nothing more. Ibo are in all the geopolitical zones of Nigeria involved all kinds of trade and merchandising. Tufia kwa! We are no criminals even though many of us lost money during the last banking and stock market crisis, and I lost some too. However that cannot be an excuse to terrorize our fellow Ibos or abandon our innovative forward looking nature and take to criminality. Our youth should gird their loins and work. Aka aja aja na ebute onu mmanu manu. (He who soils his hands working will leak his leaps with bounties!)
The recent efforts of the federal government to eradicate kidnapping is a very commendable move. It should be emulated by Ohakim and governors in the south east region.Ikedi Ohakim sadly spoke for himself and not for Ndigbo!
Uche Igwe, is an Ibo scholar based in Washington DC.
Disclaimer:

"The views/contents expressed in this article are the sole responsibility of the author(s) and do not necessarily reflect those of The Nigerian Voice. The Nigerian Voice will not be responsible or liable for any inaccurate or incorrect statements contained in this article."
Articles by thewillnigeria.com