OBINNA DYING AND NEEDS KIDNEY TRANSPLANT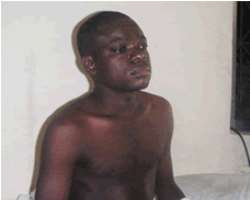 Obinna
On Saturday Sun , July 3, 2010, we published a pathetic story of a young man, Obinna Nwangwu, who is dying of kidney infection and needs help. In that report, entitled, 'Obinna is dying and needs N6m for kidney transplant,' the wife of this young Nigerian narrated his ordeal.
In telling the story, Mrs. Regina Nwangwu revealed that they had gone to several hospitals looking for solution.
She had said: 'All our savings have been spent. We later moved to Lagos to find out from St Nicholas Hospital what it would take to handle kidney transplant. They said it would cost us between N5m and N6m, excluding the treatment fees. And also, we would pay N1 million to the kidney donor. So, after due consultations, we discovered that the money is beyond us because the admission deposit alone is N250.000.'
The women also had a laboratory result of St Nicholas Hospital, with reference number, PATH. NO.5604 and dated April 27, 2010, to prove that her husband was actually taken to the hospital. The result, signed by Dr. Brugbiye, a clinician, said that Obinna was suffering CKD.
However, reacting to this comment, the management of St Nicholas Hospital said what the woman said was not true, especially the aspect on paying a donor N1 million. The hospital said it never said that, as this is not in line with its practice.
The hospital said, in a letter to The Sun : 'While expressing our sympathy for the plight of the young man in your story, we wish to categorically emphasise that the statements made therein are untrue, unverifiable and cannot, in anyway, reflect the medical practice of our hospital. To put it mildly, we are most embarrassed by the statements attributed to us in the article. It might interest you to know that such statements have far-reaching consequences on our reputation.'
Irrespective of who is right or not, The Sun regrets whatever inconveniences the said publication must have caused the management of St Nicholas Hospital.