Hunger Games sequel : Hunter Schafer joins cast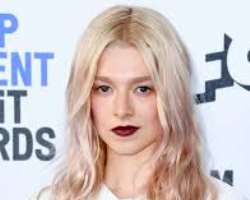 Hunter Schafer will join the forthcoming sequel of Hunger Games: The Ballad of Songbirds and Snakes, a prequel film that is currently in the works.
She is set to play the character as Tigris Snow, the cousin of Coriolanus Snow; the man who eventually becomes the callous president of the Panem nation.
The film is based on the 2020 Hunger Games spin-off novel by American author Suzanne Collins. It will tell the story of the once-wealthy Snow family, who have fallen on hard times. Coriolanus and Tigris now live together in an apartment they can't afford, struggling to buy either food or clothes.
Due to his academic excellence, Coriolanus is assigned to guide Lucy Gray Baird at the 10th annual Hunger Games, and so the scene is set for another terrifying adventure.
Schafer will join colleague, Tom Blyth and Rachel Zegler in the film. Rachel Zegler plays the role named Lucy. She made her film debut in Steven Spielberg's 2021 West Side Story (and won a Golden Globe for it).
The 1:30seconds clip showed a frozen branch. As the camera zoomed out, it reveals a golden songbird. In the Hunger Games, a mockingjay is a symbol of hope and rebellion.
"To return to the games in 2023, the world will discover who is a songbird, and who is a snake," says the trailer.
The first teaser trailer of the upcoming film was released in early June and is directed by
Francis Lawrence. Each of the instalment of the film has pulled in at least close to $700 million at the worldwide box office.