Wedding Bells: Kennedy Ties Nuptial Knots With Hearthrob, Amaka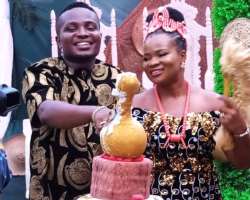 Mr. and Mrs. Kennedy Okafor
Marriage is an institution set up by God and honoured by men. Last Saturday was a day to remember as friends, family and well wishers convene at the Christ Embassy Church, 2nd Tier church, Awka to witness the exchange of vows between Mr. Kennedy Chigozie Okafor and Miss. Amaka Delight Nwankwo.
The officiating minister, Group pastor, Pst. Charles Alaraa admonished the couple to love each other endlessly as Christ loved the church with reference to Ephesians chapter 5 verses 25-29.
In his remarks, the father to the groom, Sir. Raymond Okafor expressed his joy on the moment.
"I am so happy to witness and celebrate with my first son as he wed his love life. There is amount of words to express how much I feel. "
Speaking to your reporter, the bride, Chiamaka Nwankwo now Mrs. Kennedy Okafor shared her joy. She emphasised the need for intending couples in relationship to study and understand each other well.
"I am more than happy to be married to my friend, brother and soulmate. I thank God for this day and it is a very memorable time of my life, "she said.
Guests were treated to a banquet at the family home of the Nwankwos where the reception took place at Abba town in Njikoka local government. The event was hosted by one of South East legendary master of ceremony, Mc Fides.
Highlights of the ceremony includes, cutting of the wedding and traditional cake, blessings from the bride father figure and lots of entertainment performances.