COMEDIENNE PRINCESS SMITTEN BY NEW MAN?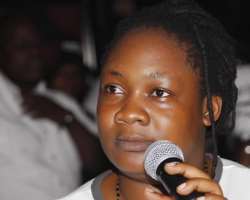 Naysayers spotted Virgin Nigeria (now Air Nigeria)Cabin Crew cum Actor,Remi Lashebikan with(one of the Gulder Ultimate Celebrity search)Dammy Adekoya,popularly known as Princess at the UNILAG Shopping Centre on the 16 July,2010.
The naysayer who saw when both of them arrived in Princesses' car was alarmed to see the amiable mood between the two of them and began wondering if there's actually more to this alliance than the ordinary eye could see.
"Both of them actually went into one of the shops at the complex and shopped together before they eventually zoomed off again the same way they arrived.they looked really lovey dovey and the guy only had eyes for princess.it was easy to see he had been smitten"
if princess has finally found love then i humbly go down on my knees and worship the almight God!!!…thank you father for being faithful in princess' life.oh Lord please teach her not to run this new man out of her town with her "talky-talky".!