Tiktok Star, Cooper Noriega Dies At 19
...... Fans Send Tributes To Honor His Passage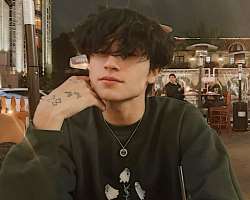 The cold hands of death has gripped TikTok star Cooper Noriega. He died at the age of 19. Days before his death, Noriega had opened up about his struggles with mental health and addiction.
"I've been struggling with addiction since I was nine years old, you may think that's crazy. I would like to use the influence I've been given to create a space built on spreading awareness and normalising talking about mental illness…
'One of the many thing I've learnt while struggling with addiction is that surrounding yourself with negative people will only bring you down."
Hours before his death, Noriega had posted a video to his 2.1 million followers on TikTok of himself lying in bed, with the caption; "Who else be thinking they going to die young," he asked.
The teenager, who posted about fashion, comedy and skateboarding, was found dead in a car park in California late yesterday
According to the Los Angeles Medical Examiner-Coroner, the cause of death has not been determined and the medical examiner is requesting more investigations. " However, it is speculated to be a death by suicide.
Recall that Noriega recently launched Discord, a messaging platform for a group of people to discuss their experiences with mental health.
"I have just created a Discord server strictly for mental health because of how much I love you guys, and how much I struggle with it myself."
"I want you guys to not be alone and feel safe," he said.
Save a life by sharing love and care. Many are depressed. If you would like to share your experience. Kindly share our links or feedbacks