LANDLORD SET TO EJECT NOLLYWOOD'S OBY EDOZIE OVER UNPAID RENT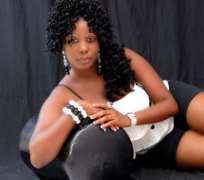 One of the controversial actresses in Nollywood, Oby Edozie who is rumoured to have beaten her mother who recently returned from London to Nigeria to stupor is said to be having a serious fisticuffs with her landlord over unpaid rent. The landlord of her house at Eloseh Street, near Kilo-Masha, by Oduduwa in Surulere area of Lagos is said to have issued a quit notice to her when it has become so evident that she's not ready to pay for the accumulative house rent which got due since last year.
On receiving the quit notice, Oby, wwe were told, sprung into action and started insulting the aged man to the extent that other tenants who are also in her shoes felt bad about her utterances and started pleading on her behalf to the landlord.
As you are reading this, Oby and her landlord have dragged themselves to Police station over the matter and from the look of things the case may be taken to court.