Toun Oni's last wish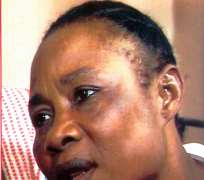 She asked for a peaceful death and Christian burial- younger brother
With the demise of veteran actress, Toun Oni, popularly called 'Mama T' by friends and fans, the Nigerian movie industry has sure lost one of the very best it could boast of.
More than one week after her death, family members and friends are still in shock. According to a family source, the suddenness of her death was a big blow to the family. Her family home in Ebute Metta, Lagos, has suddenly turned a Mecca of sorts as hundreds of fans and friends continue to storm there to pay their last respect to the veteran actress.
Though no date has been fixed for her burial, a younger brother of the late actress, Adebayo Oni, told NFC that until she breathed her last, Toun hated injustice and was a very kind woman. Bayo said Mama T was a devout Christian who wished to die peacefully and be buried in a Christian way. Bayo, who talks about his sister in the present tense, said her death has left a big vacuum in the family.
"She is Mummy. That is what everybody called her. She is reliable and loveable. She cares for everybody whether internationally, nationally or locally. She is a mother in a million who hates cheating and injustice. She is generous and very straightforward. She is one person that I know that will never keep malice with anybody. She may quarrel with you now and the next moment, she is acting as if nothing happened."
Continuing, he said: "These are all the things I will miss about her. Her death has created a very big vacuum in the family that no one else will be able to fill. She is somebody you can beckon on at any time of the day and she would honour it. If she was unable to show up, there would be a very good reason for her inability. There is no amount of money that can replace her. She always told me that all she wanted in life was a peaceful death and to be buried in a Christian way. She did not want to be a burden. All she prayed for was a peaceful death and that was why we are happy that God answered her."
Did the veteran actress have premonition of her death?
No, Bayo said. According to him, she was always talking about putting her treasures in heaven. "Christ Jesus said we should lay our treasures in heaven where locusts and the rest will not be able to reach them. She never had any premonition of her death. She was only thinking along the line that everything a man does or acquires on earth will remain here. She was not thinking about what will happen on earth. Her hope was in resurrection," he offered.
Another member of the family, Madam Bello, described the late actress as a woman who viewed life as vanity.
"I will describe my sister as someone who saw life and everything in it as vanity. She was so liberal that when she drops her bag and you go to remove some money from it, she would not mind as far she is aware. The same thing she did with her kitchen. It was always open to everybody. She was a caring person to a fault. Within a week or two, if she did not see you, she would call to find out if everything was okay. And during family meetings, she bankrolled all the expenses.
"I spoke with her two weeks before she died. It was just the normal pleasantries. She told me everything was okay and I believed her. We are no longer young, we are all mature and married now and we live in our different homes. So it is only when we see that we discuss."
The late Toun Oni's colleague and "husband" in the television soap, Fuji House of Commotion, Kunle Bamtefa, described her as a woman with a lovable personality.
Bamtefa said he was yet to come to terms with the death of his soul mate in the television series.
"I have known her since 1973 and since then, we have remained quite close. We have worked together on stage and stuck together like family. That is why I am still finding it difficult to come to terms with her death."
Toun cut her teeth as an actress on the stage. She was part of the first generation of theatre arts practitioners who wowed drama lovers with dexterity on stage. With her experience, she was expected to be one of the high profile actresses in Nollywood (English language genre). But that was not to be. Rather, she found fame with her A-list performances in Yoruba movies.
She later explained her frustration in an interview before her death, during which she lamented that she was being neglected by the producers of English language movies. She pointedly accused them of belonging to caucuses, to which she was not ready to belong.
Mama T, who passed away suddenly at 68, finally found favour with the producer of the popular television sit-com series, Fuji House of Commotion.
Her role as the most senior wife in the polygamous setting brought out the witty side of the veteran actress.
Though she dropped out of school, her versatility on stage earned her the national honour of the Officer of the Order of the Niger (OON).