People think I'm old, but I'm just 30 -Benita Nzeribe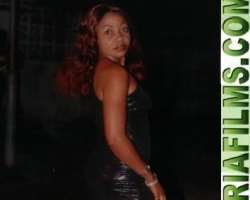 Benita Nzeribe hit stardom at the tender age of 18. This Ihiala, Anambra State-born actress says it baffles her that people think she is old. "I hit stardom at 18 and as a young lady, I really didn't know one or two things: I didn't know how to take care of myself. So, apparently, people were looking at me as if I was old. One thing about age is that when it comes, you can't hide it. This is me; this is my age; it's not like I'm looking younger. I'm looking my age. I'm not up to 40, I'm just 30."
This Abia State University graduate lets NFC into her world.
Excerpts:
What do you do to unwind?
I watch a lot of movies. I'm a movie freak. I watch into the night, sometimes into the wee hours of the morning. That is why I'm always glued to MM1 and MM2 channels on DSTV.
How about reading?
I read a lot as well. I read a lot of novels.
What kind of novels?
I read Daniel Steel.
That's romance, isn't it?
(Giggles) Yes, romance! Maybe it is because I'm an emotional person. Yes, I'm highly emotional.
How come your nails are not polished and you didn't fix falsies?
No, I'm on the natural side. I don't like too much of artificial things. You can see I'm not wearing false nails, no false lashes and my make-up is natural.
Yes, unlike some of your colleagues who wear loud make-ups?
Na you talk am, no be me. (Laughs)
There was a time it was rumoured that you were using bleaching cream and your knuckles were burnt. Can I see your knuckles?
Ada, see my knuckles. As you can see, they are the same colour. Check my knuckles, see them, nothing! There is no bleach burns. That rumour came up because I used a cream that was wrong for my skin and I corrected it and as you can see, I'm natural. I'm light, my mum is light and we are light in my family. So, I don't know where that gist came from, but it was funny. They actually said it was I and Nkiru Silvernus. That both of us were bleaching (laughs).
How do you cope with scandals? Someone said you have developed a thick skin to scandals and gossip. Is it true?
Yes, it is true. But my thick skin is getting into my bedroom and talking to my God. I'm very close to God. Honestly, I love God passionately and I think He loves me just as much, too. So, when they write something that is negative and I know that it is not true, I can't fight the person but I would tell God in prayer. Somehow, God has a way of fighting for me and when you check, I really don't have so many of them. God has found a way to really keep me from scandals.
Talking about prayers, what's your most striking prayer point?
I thank Him regularly.
Really?
Yeah, because in giving Him thanks, He does things that you don't even know you need it. So, I thank Him a lot and that's my secret of getting things from God. I just keep thanking Him and he keeps doing more for me. That's why when people see me, they are like, 'What is happening to this chic?' They don't know it's just God. That's so simple, but it works.
How come you are looking younger?
I hit stardom at 18. As a young lady, I really didn't know one or two things: I didn't know how to take care of myself. So apparently, people were looking at me as if I was old. One thing about age is that when it comes, you can't hide it. This is me, this is my age. It's not like I'm looking younger. I'm looking my age.
Are you up to 32?
No, I'm not.
But you are in your 30s?
Maybe I'm just 30.
People think you are close to 40, do you know that?
Yes, that's what people think. But I tell them that at the end of the day, the truth will come out. Age is something you can't hide. When it comes, it announces itself. Again, I started off quite early. At 18 I was already a star. So, people tend to look at me and say, '12 years ago, she was already reigning.' So they think, 'Oh, no, she is 35, she is 40 and all that.'
I happen to be one of those that think you were old, you know?
No, I'm not. As at that time, I was barely 18.
How do you cope with stardom?
It's learning how to appreciate what God has done for you. When people appreciate me, when they cluster all over me in appreciation, I say God, thank you. I do ask Him whether all these appreciations are for me? I mean, you can't see me trying to segregate and all that. Everybody is equal even if you are dirty and you want to hug me, I will still hug you. You know, somehow you make someone's day and at the end of the day, that person says a silent prayer for you, asking God to bless you more. That's what I do and I don't touch people's ego, especially men. A man would always like to woo you, make passes at you. But then, you say no; but don't touch his ego because he is an African man. If you touch his ego, he would show you he is a man. I know I'm an African woman and I know how to handle such situations.
How come you are not flaunting cleavages?
Let's say I don't want to flaunt cleavages. I just don't want to.
But you are a showbiz person, come on?
Hmm, just look at me. I'm wearing a short dress. I think I'm decent enough. Sometimes if you flaunt the cleavages, it works; sometimes it doesn't work. It depends on what you are wearing. What I'm wearing now doesn't allow it.
How about ladies, even with flabby boobs, who flaunt their cleavages?
Oh, my God! Ada, this is too direct. That's their style. I can't criticize them, that's one thing I don't do.
But is there anything wrong in advising?
I think we should flaunt the good part of us, and conceal the bad parts because nobody is perfect except God. I'm not perfect. I have some bad sides. But the good ones I flaunt. So, let's try and flaunt the good ones, so that it doesn't look disgusting.
So many marriages are crashing, how do you feel about that?
The cause is that these days, we are not sincere, people enter marriages because of one thing: 'I'm going to marry him because he is rich' or 'I'm going to marry her because she is pretty, she is an actress' and all that. There is nothing real anymore. It's hard to come by. People keep asking me why I'm not married, but it's not as if I don't want to get married. In fact, if I want to get married next tomorrow, I would do it. But it's not just getting married, it's being patient, ask God. Marriage is beyond physical attributes. I have never been married before, but I know that a point in marriage comes when love doesn't work. It is understanding and respect that hold couples. There are rocky times and after that love comes back again. I have never been there, but I read a lot of books. I know that's what happens. So, if you don't love this man, delete his money, delete his physique, delete the razzmatazz and see if you can love him. If you are not able to do it, don't go in. But these days, we are in a hurry, everybody wants to get married.
What makes you cry?
I'm a very emotional person. I can even watch emotional movies and cry. But seeing someone maltreat another because the person feels she is bigger or she has more money breaks my heart. I can't stand that at all. Why would you, because God has blessed you more than that person, decide to oppress the person?
How come you are good in playing bitchy roles?
I play bitchy roles because that was what launched me. People tend to see me in that light. But after that, Benita is a totally hundred percent different person from what you see on TV and it's only when you come closer, that you would know this.
How come you have not started singing?
Do you know if I'm warming up to that?
Oh, you are warming up?
No, I was only pulling your legs. I'm not warming up. Let's see how it goes, but for now, nothing like that, but let's see how it goes. I turn to whatever God turns me. I have a good voice, but I'm not a professional singer. But back then, I used to sing in the church.
Who is your ideal man?
My ideal man must be sincere and that is very hard to come by. Yes, sincerity and above all, he must have the fear of God. You must love and respect Him.
How do you see men that hit their wives?
That is not manly, there are other ways of driving home your point. Beating your wife is not one of them. You could actually keep quiet and she would prefer you beating her. You can actually not eat her food and you have killed the woman. But getting physical? No!
I heard something happened to you recently, that you were attacked by robbers, is it true?
I had an accident. I was also attacked by armed robbers. But you know those things happen. They are some of those things. But I'm fine. I'm really fine and life goes on.
Some of your colleagues have been involved in one accident or the other…
Oh, my God, it pains me! I see them as trials. But God would save us. I'm sure God is protecting us all. Too many have died already, so I don't think God wants more deaths.