Octogenarian Comedienne, Mama Social Passes On
Colleagues mourn her loss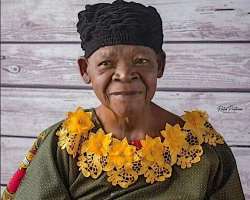 Late Roseline Onwujekwe aka Madam Social
The cold hands of death has struck the world of entertainment again. This time, it took away an elderly. Mama Roseline Onwujekwe aka Madam Social passed on after a brief illness.
The death of the Anambra born skit maker was announced late this evening.
Sharing a picture of her by a family which reads, "She can't be gone! How do I witness that laughter of yours? Oh my God. Obi'm! Madam Social ka Emesi."
According to sources, mama social was sick for some weeks and experienced difficulty in speech. She had to be assisted to do certain important domestic things.
Following her demise, certain celebrities and colleagues have expressed their condolences online.
Hospitality tycoon, Obi Iyiegbu aka Obi Cubana wrote, "Wow! Such a sad one! Goodnight mama!"
Actor and singer, David Jones David posted thus, "Oh my God. Why now? I just got to know about her two days ago. This is so sad. RIP mama."
Other fans and followers also mourned the 82 year old skit maker, noting that she would be greatly missed.
Madam Social became viral after her grandson posted comedy skits of her on the internet. Her skits were focused on morals.
Rest in Peace, Mama!