ARTISTE ZONE BLUE PARTY SEASON 2 BEACONS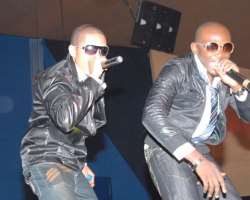 All is set for another scintillating convergence of the crème-de-la-crème of the entertainment coming under one roof for Artiste Zone Blue Party Season 2. The year's event introduces Artistes Zone Hall of Fame, a concept of appreciating individuals and personalities who have cut a niche for themselves in the entertainment industry been inducted into the Hall of Fame. The date is September 11, 2010 at the prestigious Lagoon Restaurant, Lagos. The event is a brain child of Boom Production, producers of Artistes Zone, Boom Sports, three kiddies' programmes namely Fetch Ruff with Ruffman, Between The Lions and The Warp Trio.
Artistes Zone is a leading entertainment programme on TV in Nigeria, showing at different stations across the country. The programme has over the years provided a veritable platform of convergence for known stars and upcoming ones to interact and show case their talents to the world.
In the word of the Chairman of Boom Production, Mr. Ken Agbim " this year's event will be different in orientation and in concept as we introduce Artiste Zone Hall of Fame as a platform to acknowledge diverse effort in the entertainment, details of this will be unveiled immediately the panel of judges finish their short-listing process. Expectedly, we will bring under one roof the best of Nigerian leading artistes while we keep to our chest the unimaginable surprise that is expected to herald the event" he posited.
Artiste Zone Blue Party had its maiden edition last year at the Aquatic Hall, Water Parks,Ikeja where artistes like Sound Sultan, Bracket, D.J Zeez, KEL, Deebee (Collabo), Maxim etc whaowed the crowd till the early wee hour of the following day, while Gandoki and Uche Jumbo did justice to the event anchoring and got the crowd laughing. Indeed, last year event had in attendance corporate organizations MDs, brand managers, record label owners, diplomatic corps, celebrities amidst many others.
According to the Producer of Artiste Zone who doubles as the General Manager of the company, Mr. Chuka Oputa, "Our vision is to make a statement with this year's edition and all hands are on deck to ensuring a successful event in terms of content, concept, pre and post production, media/sponsor's mileage and over-all package, you certainly won't be disappointed."
The event will have pot-pourri of activities like induction into the Hall of Fame, personality profiling, musical performances, comedy, etc it will parade the hippest DJs, hottest and most wanted Nigerian musicians come September 11, 2010, all roads will lead to the season 2 of the Artistes Zone Blue Party.
Alayande Stephen T.
Media Coordinator