NIGERIANS IN INDONESIA CRY OUT OVER EXTRA-JUDICIAL KILLINGS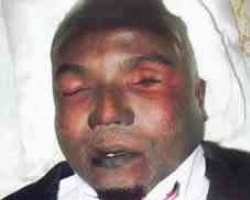 Incessant reports of how Nigerian immigrants and businessmen are usually hounded and in most cases, killed or executed like common criminals in most parts of the world without regard to the rule of law, is increasing at an alarming rate.
And painfully, the silence or lukewarm attitude of the Nigerian government to the plight of these 'unfortunate' Nigerians, either dead or languishing in prisons abroad (most on death row), is quite disturbing, heartbreaking and urgently calls for national concern.
In fact, following the recent brutal killing of three Nigerian men who were on business trips to Jakarta, Indonesia, by security operatives, a pressure group, Save Nigerians Living Abroad (SNLA), has called on the Jonathan government to immediately put an end to the rampant extra-judicial killings and illegal detentions of innocent Nigerians residing or doing businesses in Indonesia and other parts of the world.
Daily Sun exclusively gathered that the three Nigerians, Oliver Uchechukwu Osondu, Chinedu Joseph Chukwurah and Onyebuchi Richard Maduakor, were randomly picked on the streets of Jakarta, while going for business meetings and killed, for simply being blacks and proudly carrying the Nigerian passports with pride.
Regrettably, the gruesome killings of Osondu and Chukwurah in broad day light were very pathetic and smacks of wickedness and hate, for Nigerians residing in Indonesia. Narrating the dastard act to us, Mr. Okechi Chukwudi, the national coordinator of (SNLA), in an emotion-laden voice disclosed that a fellow Nigerian, who was arrested while eating in a restaurant, sent an SOS to Osondu. 'Upon Osondu's arrival, he was immediately arrested, killed and buried in the presence of the fellow he came to rescue, by security operatives.'
While Maduakor from Imo State, we were told was brutally killed because the security operatives scrolled and saw his phone number, which was the last dialed, on the handset of a fellow Nigerian that had earlier been picked on the street, while going for a business meeting with his papers intact.
In the case of Chukwurah, he was arrested on the street and shot at close range like a common criminal, after being tortured like the two others. The brutality and bestiality of the Indonesian Police and other security agencies are the fears of all Nigerians living or coming regularly to transact businesses in the Asia country.
We reliably gathered that out of the 20 Nigerians currently on death rows awaiting the hangman's noose, two had already been executed, without fair trials, despite pleas from several Nigerians and Rights Groups. They were: Samuel Iwuchukwu Okoye and Tony Hassan.
We further learnt that all the condemned men were hurriedly tried and sentenced to death in Kangaroo courts where only Indonesian language was used in passing judgments, thereby denying them the right to fair trials. According to Chukwudi, the Jonathan government should help put an end to the wicked and extra-judicial killings of Nigerians, especially vulnerable businessmen in Indonesia. It's also a pity that in 2009, this issue was brought to the notice of the then Minister of Foreign Affairs, Ojo Maduekwe, but he could not do anything.
'In fact, the Yar'Adua administration sent him to Indonesia over these incessant killings last year, but he achieved nothing. On behalf of SNLA, we are appealing with the new minister of Foreign Affairs, Mr. Odein Ajumogobia to quickly revisit this matter and help save the lives of these 18 Nigerians already condemned to death in Indonesia. All these men condemned to death are bread winners of their respective families and the Nigerian government should not allow or watch them die like chickens or common criminals. Something must be done now to save these precious lives.
We also have Indonesians living freely and doing businesses in Nigeria. Our security agencies have never illegally arrested or killed them for coming to Nigerian. So, why is our case different? It's a shame that the world over, Nigerians are being hounded and killed like common criminals, because they are always proud carrying the Nigerian passport. We have started the campaign that will help save the precious lives of Nigerians living or traveling abroad for works and businesses, and we are appealing to the government to support us in this campaign. An average Nigerian is hard-working, obedient, respectful and not a criminal?'
Meanwhile, a couple of weeks ago, the House of Representatives Committee on Diaspora headed by Hon. Abike Dabiri-Eruwa, demanded for justice on the murder of a Nigerian in Warsaw, Poland, by the Polish Police on May 23. Lamenting the death Eruwa said that as a nation, we must always demand fair and better treatment of our citizens abroad. 'The death of another Nigerian in Poland indicates the pathetic treatment meted out to Nigerians abroad. We must take a holistic look at the incessant cases of deaths of Nigerians abroad and demand better treatment. The last time a Nigerian was killed by the Swiss Police, their ambassador in Nigeria only apologized and that was it', she recalled bitterly.
Also speaking recently with journalists during the inauguration of a book entitled: Nigeria's 50 Legislative Icons: The Story of a Transformative Legislature (1999 -2009) Hon. Eruwa raised another alarm on the fate of Nigerians residing abroad. The former broadcaster turned lawmaker posited that except stringent steps were taken, many more Nigerians stand the risks of being executed abroad.
At the event, the lawmaker also faulted the Ministry of Foreign Affairs, for its worrisome silence over the tragic matter, claiming that she receives text messages every-two hours from Nigerians languishing in foreign prisons. She also kicked against the lukewarm attitude of the former Foreign Affairs Minister, Ojo Maduekwe, to the plight of Nigerians in prisons abroad.
Hon. Eruwa also joined the Socio-Economic Right and Accountability Project (SERAP), in condemning the recent execution of Nigerians in Libya, by the Ghaddafi government. Hear her again: 'We raised an alarm that Nigerians were about to be executed in Liberia, the Foreign Affairs Minister then said it was not true ,but we persisted and got them back…So, this is another batch that has been executed and another batch would be executed. It's like a quarterly thing if we do not do something. We need to bring back our Charge d' Affairs in Libya, we need to go there and make strong presentations, because if we keep quiet more Nigerians will be executed.'
Still condemning the executions, SERAP also called on President Jonathan to put in place measures to help investigate the reported executions of Nigerians living abroad, especially those residents in Indonesia and Libya. SERAP particularly urged Jonathan to call for an extraordinary session of the African Union Assembly to deliberate on the executions of Nigerians and nationals of other African countries in Libya, as a strategic way of addressing the recurring and very ugly incident.
'How can you hurriedly condemn to death, a man who do not have access to lawyers and do not understand the trials proceedings because they are not translated in the language he understands?' asked embittered Chukwudi. Human rights campaign group, Amnesty International has also strongly condemned the reported execution of 18 foreigners, including some Nigerians in Libya recently. 'Libya executes a disproportional large number of foreigners every year,' said Amnesty International.
Shockingly, the recent revelation by Mr. Fola Rahman, a UK based Legal Practitioner and immigration consultant that 20,000 Nigerians are currently languishing in various UK prisons, is another embarrassment and ugly tale that the Nigerian government, through the Ministry of Foreign Affairs, should try and tackle urgently.