Nollywood Actor, Jide Kosoko, Wife Deny Marriage Break-Up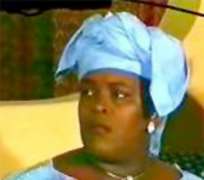 Contrary to Rumors spreading around that veteran Nollywood actor and the former president of Association of Nigeria Theatre Arts Practitioners (ANTP), Prince Jide Kosoko and one of his wives, Henrietta, were no longer in good terms, they have both denied having any hiccup in their marriage.
The Encomium magazine report stated that Henrietta told newsmen that the story was not true , malicious and senseless. I am fed up the way some people reason. For anybody to think in that direction, such a person should have his head examined. The fact that they didn't see me at the burial ceremony of hakeem Kosoko's father does not mean I have separated from my husband. I wasn't around then. That is the reason some people are writing and talking nonsense about us. They should just leave us alone and allows us to enjoy our marriage.
"Have they come to our house and found out that I have moved out? The rumour is not only untrue, but very malicious and very wicked. Those spreading such rumour against our family are jobless individuals who don't like good things".
Asked to shed light on what could have informed the rumour, she said "I wouldn't know for the rumour mongers. May be because I am in a polygamous house, they think they can penetrate through that angle. They can't succeed at all. May be they have forgotten that our marriage has lasted for 17 years now and it has not crashed, and by God's grace, it will never crash. We love each other dearly and our union has been blessed with lovely children. There is peace in the family. We still attend events together. Just recently, when Mercy Aigbe had a child dedication, we were together throughout till we left for our house. Also, just last week, we attended an album launch together. What other evidence do the enemies still want? It is painful. As I am talking to you now, we are together at a location in Ikorodu. He just showed me the text message you sent to him. "Please, help us tell the public to shun all the agents of the devil spreading baseless rumours about our home. We don't have any problem, our marriage is intact".
In his own reaction, Jide Kosoko said: "I don't need to say anything further; my wife has said it all. It is all a malicious rumour. Those behind it don't have any evidence. They are just wicked and senseless.

Jide Kosoko