Rumble In The Wood: Feud Is Not The Solution— Dr. Victor Olatoye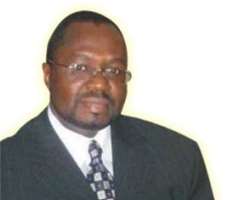 The tension crated by the recent feud between the Nigerian and Ghanaian movie industries caused by the imposition of work permit fees is becoming a source of worry to industry practitioners. Many see the development as being counter productive to the quest to producing quality films from both countries coming at a point when the collaboration between Nollywood and Gollywood is rife. Dr. Victor Olatoye, a film critic from Plantinum Entertainment based in the U.S in this interview proffers ways of moving the industry forward.
Dr. Olatoye, what do you think about the fued between Nollywood and Gollywood
What we need right now is production of good quality movies not some crazy feud. Nollywood and Gollywood right now have issues with quality of movies been made. That is the main problem .
Is it true that some film makers and actors in Ghana do not want to be referred to as been in Nollywood?
Yes, as a matter of fact I was talking to a new film maker the other day and when I referred to him as film maker in Nollywood, he was quick to let me know he is not in Nollywood. I let him know he needs to make good movies because if he does not it would not matter what "wood" he comes from. He asked me why and I told him plainly we will let him know his movie SUCKS and I want to see who would buy such a movie.He hung up after that. I don't care about the name Nolly/Gholly, I love them the same, we are all one and that should reflect in our reviews.
What is your opinion about the fees imposed on film makers and actors by Ghana?
A. It really depends on what the fees are for. If the fees are meant to keep Nigerian Film makers and actors at home, them that is pretty stupid, but if it is some licensing fees or fees for a work permit in Ghana, then that is fine, all countries have them. But it should not be that high, and it should not have to be paid every time you point your camera at someone but once.
What do you think Nollywood should do about the fees?
Continue to do what they have been doing in the past 20 years, and that is to lead and make great movies. Nollywood was there before Ghana came along so why do you think it is a big deal right now. If an actor has to pay $1000 to act in Ghana, oops! The fee for that actor just went up. If a filmmaker in Ghana really wants a particular actor then they will have to pay the price. The consumers are the ones that will eventually get squeezed. Price hike in African movies right now is a death sentence. Moreover it is not much Nollywood can do to influence the decision made by another governing body, especially of another country. They can talk to them, but I doubt if it will have any impact or change many hearts.
In your Opinion what do you think will happen if Nigerian Actors cannot freely go to Ghana to work?
Nothing really. Nigeria will learn to be self sufficient and there are other countries that can possibly use the Nigerian expertise to perfect or "spice" up their own movie industry. The Gambia is doing it; they are working with some Nollywood Filmmakers right now to revolutionize their own film industry. I am pretty sure there are other countries thinking about it right now. How do I know? I have spoken to a couple. Nollywood has all these great directors like Lancelot, Mac Collins, Reginald Ebere, Tchidi and Vivian Ejike to name a few also talented actors and a lot of up and coming ones like Jr. Pope, Emeka Amakeze and Biola Ige. Nollywood has a lot of talented manpower to move it forward. The question should be what could happen to Ghana?
What do you mean by that Doc? By what could happen to Ghana?
Ghana has a lot of talented actors, Majid Michel, Yvonne Nelson, John Dumelo, Kofi Adjorlolo, Ekow Blankson and Jackie Appiah to name a few, but Ghana hasn't enough to power their movie industry. After a while those actors will become over exposed and their movies will not sell as much because people do not like to see the same faces all the time. People like to see Majid and Mercy Johnson or John and Jim Iyke. Take for example the movie Shakira by Pascal Amanfo which is one of my favorite, Mercy is among the few in Nollywood and Ghana who can pull that role off like that. That was not a role for Jackie. Do not get me wrong Jackie is talented I just think that would have been the wrong role for her. Ghana needs Nigerian actors as much as Nigeria needs Ghanaian actors. It takes years to recruit and train new actors. It will take Ghana another 7-10 years to get to where Nigeria is regarding manpower.
What do people in the United States and Europe think about this issue between the two industries?
Honestly, people just want great movies that they can enjoy. They refer to the movie industry in Nigeria and Ghana as Nollywood. 90% of people who watch African movies really do not know what Gollywood is. Next time you should ask someone and you will see what they say. I know they like their favorite actors regardless of where they come from.
In your Professional opinion where do you think this whole idea about these high fees came from?
Possibly from some Ghanaian producers who want to corner the market
Do you know who they might be?
Yes.
Who?
Huun!
Huun What?
That is my code for no comment or let's just leave it alone.
There are some filmmakers who said they will never use Nigerian Actors in their movies. What do you say to that as a Film Critic?
It is their God given right to do whatever they want with their movies. I just think for any filmmaker to say never, never ever is not business-like and also stupid. If a talent comes out next year and he or she is in high demand, then what do you say? You are going to say no to your consumers? That is the quickest way to becoming irrelevant in this industry. I guess we now have to trace the family tree of actors before they work for this filmmaker. DNA testing might be better. They need to get off their high horse and come to the same level as the real bosses out there; THE CONSUMERS and they indirectly dictate who you hire and eventually who you keep and call back to work.
Finally what is your advice to Nollywood & Gollywood?
Good filmmakers pay attention to the act of filmmaking and not to the hype out there. Nigeria and Ghana need one another. They are more alike than different. Diversity is a good thing. If Coca Cola had only remained an American company and hire only Americans, it would have become extinct just like dinosaurs. Working with each other will complement your work on both side of the border, our fans love it so do we at Nollywood Critics USA.