Sexual Advances From Younger Men Are Too Much - Rachael Oniga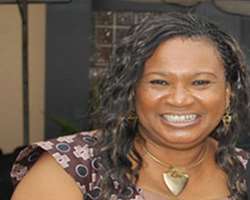 Rachael Oniga is one of the crossover actresses who has adapted easily and made name for herself. She speaks with ADUNOLA FASUYI on her life and other issues. Excerpts:
You once said you were a tomboy in your childhood days. Tell us more about this?
I was born in Lagos, grew up in Lagos and I am still living in Lagos. Though, I am from Delta, but I see myself more as a Lagosian than a Deltan. I had my primary school education in Abule-Oja in Lagos. My friends were boys, I rolled, played, climbed trees, fought and did everything with boys. Then I saw myself more as a boy than a girl. When I look back, I just wonder what kind of a child I was. So, my father thought he had to slow me down because, to him, it was not lady-like.
Because of this, he withdrew me from Lagos and took me to Edo State to complete my secondary education. I was out of Lagos for five years. To me then, it was wickedness and punishment, which I never deserved. Though, I managed to pass out with good grades, I never liked the experience, it was like taking out my soul from me.
It was a terrible experience for me and I never really forgave him for that singular action. Though he meant well for me, but it was devastating to me.
Did it affect you in anyway, maybe your education, relationship with people and all that?
Of course, it affected me. Though, I passed out with good grades, I felt I could have been a better person if I was left to be myself afterall. My relationship with the boys didn't affect me academically. You know that your childhood friends are your true, real, loyal and sincere friends. The relationship is not conditional, it is just genuine. As a child, that innocence is there, so the friendship is usually heartfelt. My father's action cut me off from my true, original friends with unconditional love of a child. However, thank God for Facebook, which can connect you to people worldwide, I have been able to hook up with some of my childhood friends through Facebook.
Did you let your dad realise this and did you forgive him?
Of course, I let him realise the pain he caused me before he died. I would say I tried to forgive him, in fact, I don't want to discuss it again because it pains me. I am only saying it because I want to tell parents out there that it is important you consult with your kids and be friends with them, try to really know them and listen to them because decisions you take for them while young can have a lasting effect on them.
Can you speak your local dialect?
Oh, yes I can. When we were growing up, we spoke English language and my dad was a strict person, but once in a while, my mum spoke our dialect to us. So, from that, I picked and can speak my local dialect.
Was your family a large one?
Well, not really, because we were six, but we lost one, leaving five of us. And I am the second in the family.
How would you describe yourself?
I am a very private and homely person. That is not to say that I do not enjoy parties, but I select the type of parties and events I attend. I would say I am a very hardworking woman. I am sociable, friendly, a good listener and that is why my children and I are friends, we relate very well, not just as parent/child, but as friends. We play together and do things together.
They teach me current and reigning dance steps, because they know I love dancing. We discuss fashion together too, I know what is in vogue through them, they learn from me and I learn from them too. I hear them out, get their opinions on something before I decide because I don't want to repeat the mistake of my dad. One thing again that most people don't know about me is that I am a chief of Ile-Ife.
The Ooni of Ife, Oba Okunade Sijuwade, bestowed on me the title of Yeye Amuludun of the Source. That is to show you that even though, I am a born Deltan, I see myself more as a Yoruba and I am happy that the Yoruba appreciate me and that is why I have that title.
How do you combine acting with the home front?
Well, I thank God for giving me nice children. It has not been very easy, I must confess. I had to put them in boarding schools as early as seven years because the job is really tasking and time consuming and I needed to work very hard to give them the best since their father was not there for them. I just give glory to God because it is a calling. But anytime they are around, I try to give them ample time, get to know them, play together and be their friend. We are good friends and now, they are grown-ups in the universities.
You must be very lonely as a widow. How do you cope with the loneliness and single parenthood?
Though, I am widowed now, for so many years, I have been separated from my husband, so I have been a widow and a single parent for almost 18 years now.
The fact of being a single parent is the more reason why I had to work very, very hard. Agreed, there are lonely periods, but I get busy with my job. Ordinarily, wives and hubbies should be together, but for me, I have been like this for close to 18 years. I am used to it, but I still thank God for my lovely kids.
You are a beautiful woman, how do you handle advances from men? Do you have plans to remarry?
As for the men, I simply appreciate them and thank them, but its not strange to me because as I said, I am used to men. In fact, I have more of male friends than females. Without sounding immodest, the pressure from men is much, even younger guys make advances at me, but I handle them maturely as friends. On marriage, I cannot really say, but God knows best and He alone knows the future of everybody.
How would you describe your fashion sense?
Well, to some extent, I am quite fashionable, though not extravagant or expensively dressed. I try to always look good, trendy and fashionable. I love good shoes and bags a lot. I also love to dress down, as in jeans with nice tops. If you see me with my kids, you'd think we are age group because I dress like them, gist together, roll together, dance together and stuffs like that.
Have you had to drop scripts and what are the things you look out for in a script before acting?
I am very professional, so the story line is one of the things I look out for. Even if the script is poor, if the story is a good one that can be worked upon, I will accept it. Oh yes, I have had to drop scripts in the past, I don't say because I am working for money, then act out a wishy-washy script. A script for me must be tight, well-articulated, meaningful and impacting; it must be able to touch on lives. And in some cases, I can work on the scripts, like adjust it for the better together with the producer.
I also look at the director of the film. If that director is one that I know and respect because he is good at the job, I will accept it because I know that once the director is good, he will do a proper casting without being sentimental about it. I do not like to find myself in a situation where either the director, the producer or the crew is sentimental and they tend to want to put somebody in the play or in a particular role because they have a relationship with him or her, that is not professional.
What motivated you into acting? Was it a childhood dream?
Honestly, as a child, I thought I would end up a singer or dancer because I love to dance and sing a lot. I danced a lot as a child and people called me names like Okoto, Kokoro Ewa and so on and I was very tiny then. I remember that then, if I entered the bathroom before you, then you are in trouble because I will spend hours in the bathroom, singing and enjoying the shower. By the time I'd come out, my eyes would be red like fire. So, in my house, people had their bath before me because I would spend hours under the shower. I have always had a flair for showbiz and entertainment generally and I think it is a calling from God.
So, did you study Theatre Arts or a related course?
No. I actually studied Computer Programming.
When did you actually start?
It was in 1993 and my rise was beyond my imagination. After school, I worked for a while but when I got married, I stopped working as directed by my husband. It was not easy at all, because at home then, I always felt like screaming my head out, it was really boring staying at home. But after my husband and I separated, I thought of what to do to keep the family going because after the separation and before he died, my husband was never there for the kids.
He was not financially responsible at all, but I give glory to God for his mercies that have endureth for me and my children. God blessed me with three lovely children that are very understanding, tolerant, and God-fearing.
As to how I ventured into acting, I would say it is just that the opportunity to do other things did not just present itself. When acting came in, I opted for it. As a person, even as a child, I had a mind of my own even though my parents were very strict. But you know a door has to open for you to go into something.
Even if you are destined to be into something, the door has to open first. The door for acting came and I keyed into it and it has worked for me. So far, I don't have any regret.
Can you remember your very first job?
My first job was on the television. I featured in a soap opera entitled: Memorial Hospital. I was a patient there. After TV, I went into the movies and my first movie was Onome and my debut Yoruba movie was Owo Blow, although a lot of people think it was Boorepo.
I actually did Owo Blow and one or two Yoruba jobs before Boorepo, but it just happened that Boorepo came out before the others and everybody just fell in love with the character that I played in the movie. And again, seeing an English-speaking actress feature in a Yoruba movie, they just fell in love with it.
Have you produced any movies of your own?
Of course, yes. I have produced four movies to the glory of God.
Your acting career cuts across the two main genres in Nollywood, which are Yoruba and Igbo. There is the impression that practitioners in the Igbo category make more money than their Yoruba counterparts. How true is this?
That is not a lie at all. Practitioners in the Igbo category make more money, are richer and pay better than their Yoruba counterparts. That is why they are richer. The reason for this is simple, in the Igbo arena, they see and do it as strictly business. Everybody has his or her own part, there are the actors/actresses, producers, directors, scriptwriters and so on, but in the Yoruba genre, everybody is everything.
The actor is the producer and the director and scriptwriter and technical man. And they do it on friends basis. Where you are producing a movie and you invite colleagues to participate as friends, they act on solidarity, which is not supposed to be so because the producer will sell the products and make his money.
We should be professional. I can say categorically that I made better money in the Igbo sector than in Yoruba. Thank God, I did more of Igbo films back in the days and was able to make some good money which really helped me in keeping the home front. But I want to enjoin our colleagues to be professional, there is no problem in doing solidarity, but let's be professional.