Many People Have Bad Impression About Me—Segun Arinze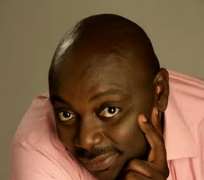 Segun Aina Padonou also known as Segun Arinze is one of the stars in Nollywood. Arinze has put in over 25 years in acting and is currently the factional president of the Actors Guild of Nigeria. He spoke with TOPE OLUKOLE on a number of issues. Arinze
You have been around as an actor for quite a while, when exactly did it all start?
It started way back in the 80s when I was introduced by a friend called Ayo Orowale and ever since, I haven't looked back. I am the eldest in the family of seven, my father is late and he used to travel a lot. Therefore, when he came back to Lagos, I joined the Anansa players where I had one or two performances. I went to the University of Ife where I trained as an actor under Chuks Mike in the Department of Dramatic Arts, University of Ife now OAU.
Can you share some of your adventures so far with us?
Do I really have adventures? I have always been working. I don't see them as adventures; I see them as a professional experiences for I trained to be an actor. For everything I do, I give God the glory, because it is not by my power or strength. It is God-given and I am blessed with so much talent. I sing, write, produce, direct, act and do so many other things as well. I see the job as a profession that puts clothes in your bag, food on your table and as well pay your bills. So, I take the job seriously.
What are the challenges you have faced in the movie industry over the years?
I have gone through a lot in terms of challenges. Challenges would definitely come because as you go along, you know there are hurdles and as you scale them, it prepares you for the next level. I had many challenges in terms of acting, in terms of working with people, in terms of people not wanting to believe you.
Some will believe you and some will not want to believe you, some will write you off and some will thumbs up for you. I do cope with challenges because I usually say challenges prepare me for the next level. Even when I was a singer under Premium Music and I had my name changed to Segun Arinze, I faced challenges as well.
Even changing the name itself was a challenge because it was not easy changing my name from Segun Aina to Segun Arinze, but because the label felt it was going to sound like the name of a Fuji artiste. Other documents bear my real names, Aina Padonou. For me, it's a challenge, the challenge that it posed was that of having to assume a new identity. Everywhere I go, people ask how come, why are you bearing this kind of name and all that?
I make bold to say without being arrogant, or being stupid. It would have been Segun Arinze, I haven't seen any Segun Arinze anywhere else, that somehow makes it unique for me, and it helps in propelling me to the top. One of the hardest things is when you get to the top, staying at the top and being relevant at every corner just like people tying fame down is a big challenge.
In Hollywood, it is said that in your best five years, if you can't tie fame down, then you are out of it. Most people are carried away by fame. They just do one or two things, people start praising them, and it gets into their heads. Fame is a very terrible thing, it can possess you. You do not let fame possess you. You possess fame, so that you can control fame and keep it in check because it can mislead you. There are also many more challenges that come with acting.
When I did Silent Night, there were many challenges playing that role, Black Arrow. I also lost an award in the process when we had Reel Awards from Encomium, because one of the judges on the panel said he had just been robbed and shortly after that, he watched the movie, Silent Night and said no! no!, this was too real. Moreso, many people think I am a very terrible person because of the roles I play. I am a very private person, extremely private. I can't reconcile acting with my person, they are two distinct things that I do, I don't even mix them up. When I finished, I drop the script and it ends there.
In all these years, what will you describe as your greatest regret?
I have learnt not to regret anything. Regret is a burden, it weighs you down, it puts a big burden on you. What I do is learn from my mistakes and move on. Just like in the city of New York, everyone is moving very fast, the same thing about Broad Street in Lagos, everybody is moving and no one waits for anyone.
You have been an actor all these while, have you ever thought of being a producer yourself?
I am a member of the Actors Guild of Nigeria; I am a director and an associate member of Directors Guild of Nigeria. When the time comes for me to produce a movie, I will do it and if otherwise, it is not mandatory. We can't all be producers and directors just like not forcing everyone to be a pastor. You must have the experience and wherewithal to be a producer and a director.
You are one of the pioneers of the Hip-hop music in Nigeria, why did you take a leave?
I thought I had enough of it and I had to go. I could not stand the things they were doing, that amounted to nonsense. The terms and conditions of premier music wasn't right and conducive for me, I didn't like it. Moreover, I went back into full acting.
Who is your wife?
My wife is my wife, why do want to know who my wife is? Did you not see her when I got married?
What is your philosophy of life?
Simplicity, take every step one day at a time, never be in hurry. Also, try to live life to the fullest but be careful about that. I believe in God, I live by His tenets, and I give Him all the glory for whatever he gives me
What would you like to change in the movie industry or the profession?
I would like us to be very professional in the ideal sense. I will like us to take and do things the way it should be done, no half measures, no management, no short cut. Do it the way everybody does it around the world and you find out that you will go very far.