Nollywood not yet professional – Ihuoma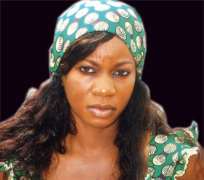 Pretty actress Ihuoma Nnadi is not your regular face on screen. But she is blessed with the talent and skill to hold her own in the movie industry.
Her quest for professional excellence took her to the film Academy in Los-Angeles, shortly after her graduation from the University of Port-Harcourt in 2008, where she sharpened the edges of her talent in acting. Now back in the country, she is ready to explode. She spoke to HVP on her plans to make the difference in the world of make believe.
Hear her…
Are you new in Nollywood ?
No. I have been around. I joined the industry in 2003, while I was an undergraduate at the University of Port-Harcourt and I studied Theatre Arts.
While in the university, I combined acting with my studies.
But at a point, I could no longer cope with the burden and I decided to suspend my career to focus on my studies. Before then I had featured in several movies produced by O.J productions.
As an undergraduate, what gave you the assurance that you have the talent to excel in acting?
I have always loved acting . A lot of people may lay claim to this, but I think, mine started off from childhood.. As a child, I had a strong passion for the stage. And as an undergraduate, acting was inseparable from my whole being.
But I had to slow the pace because I needed to focus on my studies. And after my graduation in 2008, I travelled to Los-Angeles to hone my acting skill before returning to Nollywood.
Did I hear you say, you travelled to Los-Angeles?
Yes, I travelled to Los-Angeles to pursue a career in film making and acting. I attended the Young film Academy over there. Acting requires a lot of techniques which I'm sure is lacking in Nollywood. While the training lasted, I came in contact with some notable directors, Hollywood stars, teachers and producers who really inspired me.
I learnt a lot concerning the rudiments of acting. Technique remains the most important element of acting and I think I needed it, to sharpen the edges of my acting skill. That's what took me to the film Academy in Los-Angeles.
Did you embark on any film project while you were undergoing your training there?
Yes, I did. It was a school project which I shot with one of my colleagues in the Academy. The project took us to Texas, where we shot the film. It was small budget project indeed. I also did a lot of series with my other colleagues in the academy. It was a memorable experience.
Now that you are home, what are you offering the industry?
A lot! I just want to be given a chance to showcase what I learnt while undergoing my training in the Academy. Acting involves a lot of depth and such goes beyond the razzmatazz on screen.
Before now, I was not very much involved in the profession, but after my training in the academy, I think I'm better prepared to face the challenge. I have got a lot of skill to offer to Nollywood.
Though I am yet to feature in many movies since I returned to the country, I am determined to prove my mettle whenver the opportunity presents itself. And recently I featured in movie produced by Guinks Productions, in Asaba.
I once featured in Guinks productions, "Twilight Sister", which explains why he invited me again to be part of this new film titled, "Enemies Within." I haven't played any challenging role so far in a movie, but I'm hoping to do so very soon.
Meanwhile, it will interest you to note that I have featured in some major hits in the past like "Egg of Life", by O.J Productions. I was also one of the seven virgins in that flick. "Piece of Flesh' by Remmy J. I also starred in "Sweet Pain" and
"Sweet Tomorrow" as well as "Kingdom Gate" which was the last film I did before travelling out of the country last year.
And where do we go from here?
I'm aspiring to hit the top and to showcase my talent on screen. I'm craving for an opportunity to showcase what stuff I'm made of. I have got talent, and I think there's need to give emerging actresses like myself the space to launch ourselves into the mainstream acting world.