Mama T burial postponed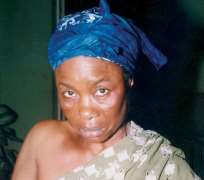 Veteran actress, Toun Oni who passed on last Wednesday in Lagos will be laid to rest on Friday, July 23, at the Vault in Yaba.
Toun's rites of passage was initially billed to take place last Thursday, but had to be postponed, owing to the intervention of the theatre workers, and some parastatals in the Ministry of Tourism, Culture and National Orientation who are collectively doing everything possible to accord the departed thespian their last respect.
"Toun's burial rites have been postponed till Friday, July 23. The postponement is inevitable, following the new arrangement initiated by the Culture workers, movie practitioners and the government to accord the departed thespian a befitting burial." Modele Bello, Toun's younger sister disclosed, on Thursday.
When HVP visited the departed actress' family home in Ebute-Meta, area of Lagos, an atmosphere of calmness and gloomy pervaded the vicinity. Few sympathisers and family members were sighted hanging around the place.
Toun, who starred as Mama T in the popular television drama "Fuji House of Commotion'' died at the age of 72 years.
"Her exit remains a permanent loss to every member of the family but we cannot question God as she lived a glorious life,''Modele said while paying tribute to her departed sister.
Mama T's husband in the drama series, Mr Kunle Bamtefa , while signing the condolence register (Chief Fuji), described her death as "painful and a big loss,' adding that "Oni was thorough as a professional.
The departed actress would be remembered for her care and willingness to render help."
"I have known her since 1973, and since then, we have remained quite close. We have worked together on stage and have stuck together like a family; that is why I am still finding it difficult to come to terms with her death," he said.
Also, paying tribute to Mama T, Martin Adaji, Acting Director-General, National Troupe of Nigeria(NTN) said, "Our consolation is in the fact that you left an indelible footprint on the thespian stage."