MR. PRESIDENT, TIME TO CHANGE EFCC'S NAME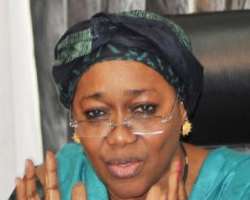 At a time when the people of Nigeria live in an ever expanding, complicated and challenging world, national security agencies should bear names or designations that reflect an instant symbol of authority, a recognizable sign of power, and an on-the-spot perception of influence.

During the sweeping reform era in Nigeria by President Olusegun Obasanjo's post-military administration, one of the national agencies born in 2004 was the Economic and Financial Crimes Commission (EFCC).
As a national intelligence, security and anti-crime agency, the EFCC, with all of its preventive, investigative and prosecutorial powers, persists in the fight against crimes like money laundry, bribery, financial malpractices, computer crimes, forgery, land fraud, alien fraud, illegal schemes, scams and other related crimes like terrorism.
However, it is the name, "Economic and Financial Crimes Commission" that bears some questioning and calls for refurbishing.
As a designation, it is too broad, and an all-over-the place term, in regards to the wording, symbolism, and delivery. It is a label that has outlived its transitional use and period.
From the point of symbolic human psychology, a breakdown of most of its respective words "Economic", "Financial", and "Commission" as well as the supervisory function, "Chairman" are on face value, collectively suggestive of an advisory board on "Crime".
Since symbols by definition assume special imagery and functions these long-winded, wordy and boring words unconsciously, consciously, implicitly, explicitly, as well as directly, could collectively portray images of a compensation body, a review forum, a charitable board, a delegating board, a trading house, a conciliation board; operating under a Chairman, as in a commercial or political head.
No one doubts that the EFCC is a statutory authority in regards to its internal and external law enforcement functions. However this does not excuse the inherent and complete vagueness that its name carries, even its acronyms, which present as a bunch of successive letters that equally spell out a mouthful, drag-like and wide-ranging expressions. Of course it is easy for an EFCC officer to scream out "police" as a quick identifier of authority to a suspect or in the course of his or her duties. But that is not the point being made here is this paper.
For example, a new visitor to Nigeria or for many educationally disadvantaged Nigerians, the collective name, "Economic and Financial Crimes Commission", and its contracted letters, "EFCC", might on face value symbolize anything, or everything else other than the instant representation of power or authority.
The question now is what is a more appropriate name that is conducive to the going expansive and operational functions of the agency?
Mr. President, let's get right on to it, the new designation(s) being put forward could be called the "Federal Bureau of Criminal Investigation" (FBCI or even FBC), or the "Federal Force for Investigation(FFI).
Mr. President, unlike the current agency's vague, and ambiguous name, this proposed new designation(s) is colored with the sign, image and notion of instant impact and specificity.
There could be an assuming perception of clarity, distinction and clear-cut depiction of power in the newly proposed name, at least amongst the public and those who serve in the agency.
The new designation appears to align well with the operational, practical and strategic work of the agency.
On a psychological level, the new name could help in personalizing the agency as an instrument of fear, bringing unease to the criminal, and more likely to portray in the minds of such people, fear-arousing feelings and attitudes.
The new designation could elicit powerful visualization of controllability embedded in the agency, at least from the perception of those in an offending mode especially.
The visibility of this proposed designation both in print and in the media could arouse a preventative mindset among those thinking of criminal activity.
Along the lines of these new labels, the Federal Bureau of Investigation or the Federal Force of Investigation is the on-the-spot authoritative and up-to-the point sounding acronyms, like the "FBCI", or "FFI".
In the same vein, there should be a new label like the "Chief Director" or "Executive Director" in place of the commercially, corporately or politically sounding label of the term "Chairman".
Accompanying the proposed new designations should be the label of "Special Detective" with driving characteristics of uniqueness, authenticity, professional stance and expert-driven outlook.
Mr. President, these suggested designations, appear congruent with the agency's continued expanded roles and operations.
These functions include but are not limited to the fight against; treason, fee fraud, land schemes, cyber crimes, cult violence, aircraft hijacking, sex trafficking, racketeering , medical child abuse, major weapons offenses, international money swindling, medical fraud, espionage, sea piracy, terrorism , ethnic violence, and other work with related law enforcement and investigative agencies.
In our contemporary world, the agency now works within a global context as crimes nationally and internationally are becoming more sophisticated and daring in form; therefore with the up-to-date new designation like the ones proposed here, the agency's representation will be more easily recognized globally.
Along these lines, the agency in its ongoing fight against more treacherous and expanded crimes, requires expanded human resources as well as contemporary technical support, in order to produce top-notch detectives.
The current training Academy in Nigeria might as well bear a new name along the lines of the already noted new labels, the FBCI or FFI. The new name of the Academy could be called the "National Investigative Training Institute (NITI).
Mr. President, it is hoped that in your position as a 21st century leader that along with the appropriate advisors that you thoughtfully consider these up-to-date psychological and symbolic driven designations with respect to the specified agency.
It is also hoped that the federal legislature in its forward looking posture gives the needed blessing to this apparent aligning designations to an advancing national security agency like the 'FBCI' or 'FFI', in today's world.
John Egbeazien Oshodi, Ph.D, DABPS, FACFE is a Forensic/Clinical Psychologist and the Interim Associate Dean, Behavioral Science, Broward College, Coconut Creek, Florida. [email protected]
Disclaimer:

"The views/contents expressed in this article are the sole responsibility of the author(s) and do not necessarily reflect those of The Nigerian Voice. The Nigerian Voice will not be responsible or liable for any inaccurate or incorrect statements contained in this article."
Articles by John Egbeazien Oshodi, Ph.D.