My Discrete MethodI In Handling Events And Clients Professionally Attracts More Patronage -- Osinem, CEO, GMAK Cakes.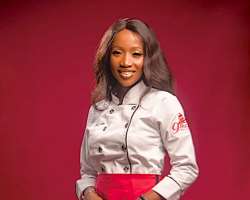 The global economic situation in the world has led various youths into discovering of talents and purpose. One of them is Glory Chiamaka Osinem who is a popular baker based in the state capital of Anambra state. In this exclusive interview with Ifeanyi Ndukwe, she shares her experience on the path of her career.
Tell us about yourself?
I'm an indigene of Nise in Awka South. From the very beginning, I love kitchen stuffs like baking. I love trying out new and creative ways of doing things including trying out new recipes . These creative ingenuity led to the birth of a vision called GMAK Cakes.
How did you come about the name GMAK?
It came from a creative coinage of my full names. The letter G stands Glory while MAK is coined from Chiamaka. I am known for cakes and delicious pastries. I run birthday surprises.
What inspired you to choose this path?
My parents were teachers though retired. Naturally I love to teach and impact knowledge. This inspired me to set up GMAK cakes academy where I tutor and mentor people on creative bakery of cakes and other pastries.
How did you begin?
I would say the whole journey began at the period of my secondary school. I attended Holy Innocent Juniorate Convent, Nkpor. I was a boarder. During my JSS 3 long vacation, a regular habit my parents do was to enroll each of us into a skill acquisition center unlike the usual norm of enrolling into a lesson center. During one of the long vacations, a certain corp member in my mom schools was paid to tutor me in some skills namely, beading especially beaded bags and bangles.
I decided to put what I learned into practice. I asked my mom to buy materials for beading. Like every average mom, she asked me if it won't disturb my academics and I promised it wouldn't. During free week period(the period after exams when students await for their terminal results), l would use the time to do beads. I did some designs of fancy beaded bags which attracted the attention of some classmates. Some of my them loved it and I collected #100 each from them to teach them. At the senior secondary level, I chose home management against agriculture.
When it was time for my university education. I applied for Radiography but I had initially wanted to study Medicine and Surgery after a career talk.
Surprisingly, my dad has a policy of one sitting for UTME. And it worked for him. Well I didn't get any. Then, I was advised to take up Home Economics Education instead of waiting for one extra year.
At my 300 level, I went for my IT. Unlike other students who paid for their log book to be marked. I wanted to work and learn something. Thus, I found myself at Spinach Fastfood located at 33,Onitsha. During my stay, I persuaded the manager for a spot at the kitchen since I was posted at the bar. I appealed to the baker to always call my attention anytime she wants to bake. So when the manager saw my passion to learn and work hence he switched me to the kitchen section.
Back to school, I decided to put the knowledge I had to practice. One day while I shared my experience and plans with a friend, her roommate stepped in and joined the discussion. She was elated and explained that she had same vision as mine. We were overwhelmed with passion and excitement. That same week, we went to a cybercafe and printed flyers and went on a one on one reachout to customers especially at the student lodges. On the matriculation day, we carried a table and displayed our products. Interestingly, we sold out all cakes at the matriculation ground.
That was how the business started. Customers will either call me or my partner, Uche to place orders. As I approached my finals, l had a bigger picture in mind. My relocation to a new hostel put a stop to the partnership with Uche.
On how I became a household name in South East bakery industry?
One day, I was invited to a friend's birthday. I was embarrassed that she didn't patronise me but the standard of the product was superb. After my final exams, I approached her and asked her to give me the contact of the baker. Immediately after my final exams, I had already made up my mind on what steps to take. So, from school, I was headed to my aunty place because it was close to the new place of learning.
Kindly share with us an experience you had with dealing a difficult client?
There is this lady I met on Facebook. She was to celebrate a house warming on 30th Dec. The same day was a date for my sister's wedding. As you know, I wanted to give it my all. By then, I had not learnt to preserve a cake. It was a house cake design. Two days to delivery, I noticed the cake has changed taste. I was confused and decided to deliver it like that. But I did an equivalent of it with no designs. The client was infuriated and literally slapped me over the phone. I tried to apologize amicably but it fell on deaf ears. Just two months ago, my phone rang and guess what, it was her. I wanted to be sure she didn't make a mistake by dialing my number. When the phone rang a second time, I picked up. She appraised the second cake and also booked for another one for her sister's engagement cake.
Describe your most challenging project?
Well, GMAK is made of a cake studio, events and decor. It was challenging handling event such as the Valentine Eve Dinner concert. The process of hosting the program was demanding and hectic. It was held on Valentine eve, a day before Valentine. Its a special pet project where loved ones hang out with one another. There was music, movie watching, comedy, dance and game competitions. The maiden edition was held at the Finotel hotels, Awka this year.
The idea was birthed after watching a Nollywood movie titled in appreciation, "Super Star" featuring Nancy Isime and a stellar of acts. In the movie, guests were invited for a special book review night in a love garden where all were seated on the ground.
Share your experience in your social responsibility to the society?
I believe we rise by lifting others. Honestly I wish I have more than enough to feed the poor in the streets. it was very emotional and inspirational moments. Each season of my birthday celebration comes with different messages of hope and love. Last year, I distributed food and drinks to the poor and malnourished in the streets. Two years ago, we visited the prison yard to support and feed them. This year birthday celebration prompt the need to share knowledge so I was inspired to teach and equip people with the baking skills.
If you were not baking. What other ventures would you be into?
I'd always wanted to be in the medical line. I'd always loved to care for people. If I had gotten admissions to study Radiography , I strongly believe I wouldn't be in this country by now. (Smiles) since I'm slim, I would have taken to modeling.
Were there moments you felt like quitting?
There were down moments. My love for God propel me to keep pushing. I'd always encourage myself, "Chiamaka, God has brought you this far not to fail you'. There has been ups and downs but the God factor has set me apart as the Scripture says, 'a diligent man shall stand before kings and not mean men.' I trust my instincts and have my heart set on Gods agenda. These are motivating factors to inspire me to head on inspite of the prevailing circumstances.
What make GMak cakes special?
Transparency. When a client places an order, I put my ability to ensure that he/she gets the best. At times, I may get a client angry due to some unforeseen lapses. But what keeps them coming is my humble nature in handling the situation professionally.
Do you have students training in your academy and what is the duration of studies?
We have classes for interested students. We have beginners, intermediate and advanced classes. Each class runs for a duration of 4weeks. If an individual goes for the full package, he/she has the privileges to stay for 6months. The first 3months is for the training while the remaining 3months is on the job training
Any advice to aspiring entrepreneurs?
The sky is so big to accommodate everyone. Train yourself to high standards and excellence. An Igbo adage says, " afia oma ne ere oweye" meaning a quality product sells itself
I encourage all entrepreneurs to work hard, stay on course and remain diligent on your visions.