WE MUST REVIVE LIVE BANDS – SIR SHINA PETERS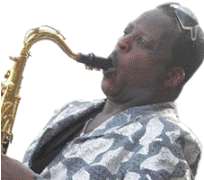 Shina Peters
Afro-Juju creator, Sir Shina Peters, was recently appointed the king cum ambassador of the forthcoming Fortune Instrumentalist Talent Show (FITS), which seeks to revive and encourage the constant use of musical instruments, particularly live bands.
At the unveiling of the musical talent hunt show that is being powered by D. Board Media, in Lagos, Peters, famously known as SSP, took out time to speak with Daily Sun on the project, his reasons for accepting to be part of it and the place of music in Nigeria.
SSP, who has spent 43 years in the entertainment industry, equally frowned at the lackadaisical attitude of government towards the growth and sustainability of the music industry.
The veteran musician and multi-instrumentalist, who unknown to many, also teaches African music at the Toronto University, Canada, is however optimistic that the birth of FITS, would help change and redefine the music industry with regards to live bands.
On what has happened to his music career and the Nigerian music industry generally, SSP said: 'My music life is great, but what we call music in Nigeria today is very disgusting, it's nothing but trash. If care is not taken the music industry in Nigeria will be destroyed. The Nigerian government has failed to recognize the entertainment industry, especially music. They should empower the entertainment industry, just as they have done for football. There is nothing like entertainment. Supporters' clubs go to stadiums to sing and play music, yet government is not supporting them.
'In the US; God has blessed them through music and entertainment in general. That is why they always praise their country in their songs. I started producing commercial videos in Nigeria, because during our time we dictated the pace for our records companies. But now, artistes pay to the records companies in order to be signed on, which is very painful.'
Why I accepted to work as the King and Face of Fortune Instrumentalist Talent Show (FITS)
First and foremost, FITS aims at reviving the Nigerian music industry, because new talents should be discovered, especially in the areas of musical instruments and vocal chords. I'm already 53 and by the special grace of God, I've spent 43 of those years playing music for humanity.
As the King of the FITS House, I'll help discover and groom stars by teaching them how to play musical instruments and grooming them on how to be good musicians and instrumentalists. I personally dropped the guitar for the up and coming ones to survive. But I want to return to my guitar to help establish new acts in the FITS House. I actually went back to the drawing board, for four years to rediscover the kind of music that suits my voice, which is what I'll do for all the housemates coming to the FITS House. We are going to correct so many wrong things about our music with FITS. My queen in the house, Ayanbirin, is equally good and poised for the job ahead.
I want to use this opportunity to urge all those who are interested in becoming talented musicians and instrumentalists to quickly obtain their forms at any branch of Afribank, for a token and complete it online at www.fitsafrica.com. Our regional auditions will hold in Ibadan, Lagos, Benin, Enugu, Port Harcourt, Calabar, Abuja, and Kaduna respectively. Because I'm involved, we have elevated the star prize for the first team to N6m and a recording contract worth N5m, while the first runner up team will get N3m and the second, N1.5m.
All these incentives are to help develop and encourage creativity among our youths.
Maintaining the bands
A lot of people have tried to kill live bands in Nigeria, but they did not succeed. Hausas and Igbos are my biggest fans. Seventy percent of my fans are from these areas, especially, the east. I'm not a digital artiste, I am an analog person and I have no apologies for speaking the truth. Enough of these flashes in the pan that we are currently witnessing in the industry, artistes should be hundred percent original and more creative in their works.
Advantages of FITS
I can assure you that by the time we finish with FITS, there will be a rebirth in our music industry, because a lot of people would have learnt and get truly empowered. I created Afro-Juju, which is my own style of music, and it cannot die because I've used it to encourage and empower a lot of younger Nigerians, meaning that if I die today, my music would still go on.
Becoming the King of FITS
First and foremost, I saw it as a welcome development because we all see the project as something that'll help revive the music industry and empower our teeming youths greatly. In fact, the first day they came to my house, I told them that whosoever that initiated the project was God sent and that shows that the God we owners of live-bands are serving is still alive and watching. I also prayed that day for the organizers of FITS, for coming up with an initiative that was aimed at reviving live bands in Nigeria. I will do everything within my powers to support them because they're God-sent.
Mentoring the artistes
For me, this is just the beginning of greater things to come for up and coming acts in the Nigerian music industry. Today, I also teach three or two times in a year at the Toronto University, Canada. Besides, they do appreciate my kind of music, especially Afro-juju, which I created. This FITS project must work, because it's a challenge on all of us that are involved in it.
For my team members at FITS and I, it's all about empowerment and revival of our music especially live bands and all the instruments that go with it. My dream is that by the time this project is over, we should be able to produce the kind of music that sounds like that of Rex Lawson, Osita Osadebe, Bobby Benson, Roy Chicago and the rest of them. We should be able to also form new bands that will take over from the old generation. The organizers told me they opted for Ayanbirin and I because our works cut across different genres of music.
At the end of the day, we want to discover and nurture people that we'll equally help to harness their talents, strong points and make stars out of them too. For 30 days, we'll be available to monitor budding talents who are waiting to explode.
Why I didn't start a band
It's a pity that I have to say this, by all standards, I'm a man of God, whether you believe it or not. I started JUBAL and was the first executive president and personally funded it with all the money I made from Ace, which sold over 25 million copies.
I later started New Generations, with over 25 bandleaders. Later those in PMAN petitioned us and said we do not have the right to float the body, which was just aimed at helping to revive live bands in Nigeria.
They said I was only using the artistes for my personal gains and that led to the body's disintegration. I, Isaac Oluwashina Peters, have contributed immensely to the growth of the Nigerian music industry, especially live bands, but with FITS, we are taking the whole process to the next level.