BOUQUI, MIDNIGHT CREW, OTHERS FOR AZUSA PRAISE JAMZ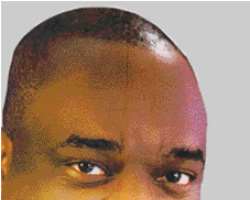 Madubuko
This year's edition of the annual Azusa Praise Jamz will be headlined by some of the biggest names in the nation's booming gospel music industry.
Leading the pack of entertainers that will sensationally thrill invited guests with soul-lifting lyrics at the religious gathering are the quartet of: Lara George, Midnight Crew, Bouqui and Ann Inyang.
Others on the bill include: Damola Adesina, Seun Bankole, Chioma Jesus, Latter Rain Assembly Choir, Revival Assembly Choirs from the Aba and Abuja branches respectively as well as the Higher Dimension Choir, among many others. Also supporting the Azusa Praise Jamz from the international scene are the duo of Patricia Shirley and Uche Agwu, from the US and South Africa respectively.
Organized by the Apostle Anselm Madubuko-led Revival Assembly, the conference for ministers of God begins on July 21 and climaxes on Sunday, 25, with high praise jamz at Revival's Miracle Cathedral, Ogba, Lagos. Aside the praise jamz, Apostle Madubuko and his wife, Connie, will be joined at the conference, already in its eight year by pastors Gboyega Shitta, David Ibiyeomie and a host of others to minister daily to the children of God.
Shedding more light on why they are infusing more gospel music into this year's Azusa, Madubuko, said praise is a very powerful weapon in bringing the presence of God to his people. 'The conference will begin with normal revival services in the evening and climaxes on Sunday with the high praise to God. Within this praise section, we'll thank God for Nigeria. And for those attending, there will be miracles, blessings, salvation and surprises from God. In fact, God has promised restoration and so many other great things at this year's Azusa, which is the eight in our annual calendar', he disclosed.
Elaborating more on the divine concept of Azusa, which has featured virtually all the big names in the nation's gospel music terrain since inception, Madubuko further posited that its all about trusting God and revivals. 'The church needs to be revived through constant prayers and high praises, because we have become too complacent, we have also forgotten the reason we are here on earth. So, Azusa is a kind of a reminder that we are not just here as churches, but to make huge difference and win souls for God, because when praise goes up, blessings come down.'