US DRONE 'KILLS SEVEN SUSPECTED MILITANTS' IN PAKISTAN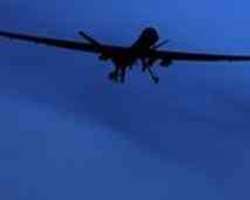 US drone attacks have been frequent along the Afghanistan-Pakistan border
At least seven suspected militants have been killed in a drone attack in Pakistan's North Waziristan tribal region, security officials say.
They say that at least two missiles were fired into a compound used by Islamist fighters 30km (18.6 miles) west of the town of Miranshah.
Tribal elders in the area told the BBC that many of those killed were civilians staying in a village house.
Foreign fighters linked to al-Qaeda are known to be in the area.
About 70 drone strikes have killed more than 200 people in Waziristan since the start of 2010, officials say, although Thursday's strike was the first in a fortnight.
Renewed scrutiny
A security official told the AFP news agency that up to 14 militants were killed when three missiles slammed into the compound.
He said that the area is a stronghold of Pakistani warlord Hafiz Gul Bahadur, whose 2,000 fighters in the region stage attacks over the border against Nato forces stationed in Afghanistan.
Officials told AFP that it was not immediately clear whether there were any "high-value targets" among the dead.
Drone attacks have focused on North and South Waziristan, which US officials say is at the centre of the Taliban and al-Qaeda insurgency.
The area has come under renewed scrutiny by the US after Faisal Shahzad, the Pakistani-American charged over an attempted bombing in New York on 1 May, allegedly told US interrogators he went there for bomb training.
Pakistan publicly criticises drone attacks, saying they fuel support for militants. But observers say the authorities privately condone the strikes.
The American military does not routinely confirm drone operations, but analysts say the US is the only force capable of deploying such aircraft in the region.
Washington describes the rugged tribal area as one of the the most dangerous places on earth.
The Pakistani army has not discounted the possibility of an offensive in North Waziristan, but argues that gains in South Waziristan and the north-western district of Swat first need to be consolidated to prevent troops from being spread too thinly.
Five people were killed in a suicide bombing in Swat on Thursday.