…MARK CANVASSES STATE OF EMERGENCY IN AFFECTED STATES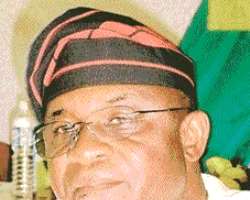 President of the Senate, Senator David Mark yesterday urged the Federal Government to as a matter of urgent matter of national importance declare state of emergency in states prone to kidnapping.
Senator Mark who spoke at the end of the debate on a motion on the rising wave of insecurity in Nigeria, stressed that it would be very difficult to apply the rule of law in a situation of jungle environment, adding that those involved in the criminal act must be handled in such a way that would make it difficult for them to continue to get involved in such unholy practices.
'Presently, it is simply a jungle environment and rule of law must change to conform to dealing with those who operate in jungle environment and I believe that the law enforcement agency should be able to do that,' Senator Mark said.
He therefore called on the 36 State governments to criminalize kidnapping by formulating a legal framework to combat the ugly trend just as he canvassed capital punishment for anybody found involved in kidnapping. According to Senator Mark; 'I also believe that the kidnapping and armed robbery that is going on in this country is doing more harm than HIV/ AIDS and Malaria.'
The Senate President also noted that the development is taking the country to a level where people will become afraid to come into Nigeria since it is on the internet on a daily basis, adding that there is no way any investor will come into this country to risk his life when he cannot be guaranteed of safety. 'Government has a real responsibility. I think that there are immediate causes and we should find immediate solution. Personally, a situation of jungle environment, where we want to apply the rule of law is a very difficult thing. I think those who are involved must be handled in such a way that they will never contemplate it again in life,' Mark said.
The Senate President further said that if the menace is to be effectively tackled, there would be no justification for a Commissioner of Police to be sitting on his seat if there are kidnappings and armed robbery taking place on a daily basis in the state.
Mark declared; 'It means he has failed and he must be told in clear terms. If a man fails to handle a precarious situation as kidnapping, he should not remain on the seat so that we don't continue to get excuses from him.'
The main sponsor of the motion, Senator Anthony Manzo, while speaking on behalf of 19 co-sponsors, drew attention of the Senate to the unhindered increase in the wave of insecurity across the length and breadth of the country.
Senator Manzo noted that insecurity has become so manifested as being experienced in the rise of armed robbery attacks, wanton assassinations, kidnappings of both young, elderly, rich and even the poor saying that no stratum of the Nigerian society appears to be shielded from the evil acts.
He noted with concern the recent threat by some political thugs who claimed to be ex-militants from Niger-Delta who recently stormed Abuja until they were intercepted by security operatives at Gwagwalada Area council of the Federal Capital Territory.
The Senators further argued that the Nigeria Police and other security agencies remain impotent and bereft of ideas on how to contain these security lapses despite budgetary provisions granted them.
In his contribution to the debate, Deputy Senate President, Ike Ekweremadu, berated the idea of the various road blocks mounted on major highways without meaningful result saying that what the police needed is intelligence gathering that will aid them in tackling the menace.
Senator Ekweremadu recalled his experience in 2000 when he was kidnapped and locked inside the boot of a vehicle during which he passed through several police check points without being stopped.
Speaking in the same vein, the Deputy Senate leader Senator Victor Ndoma-Egba (SAN), while condemning the act cautioned his colleagues and other politicians against flamboyant lifestyle and open show of affluence thus advised public office holders to learn to be moderate in their ways of living particularly in the face of poverty in the land.
At the end of an exhaustive debate on the motion, the Senate resolved to organize a stakeholders' conference to draw up a framework on how to handle the incessant cases of kidnapping with the objective to recommend appropriate sanctions for culprits.