JONATHAN IS 'JOSHUA' OF OUR TIME –EX-AD GUBER CANDIDATE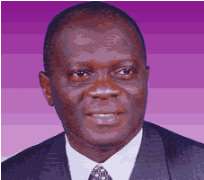 Alliance for Democracy (AD) governorship candidate in Enugu State in 1999, Dr Perry Iloegbunam, has given reasons why President Goodluck Jonathan should run in 2011.
Iloegbunam, who is in the forefront of the campaign for the domestication of Stem Cell transplantation technology in Nigeria told Daily Sun that President Jonathan would end bad leadership that has hampered Nigeria's democracy in the past.
He also believes that the Jonathan presidency would give a sense of belonging to the neglected minority groups in the country that have led to violent agitations in the past, making him to urge Nigerians to join hands to propagate Jonathan's leadership now and beyond 2011.
Excerpts:
The 1999 election in Enugu
I contested the 1999 governorship election in Enugu State under the AD. That election was keenly contested and my party made a good showing, even though I did not win. My party won two senatorial seats in the election. And during the 1999 Alliance for Democracy/All Peoples Party, I co-chaired the presidential campaign of Chief Olu Falae in Enugu State and we made great impact in that alliance.
Why I want Jonathan to run
Yes, President Goodluck Ebele Jonathan should run for the 2011 presidential election. I believe that is the only way to correct a historical injustice done to the people, to the nationalities of South-South in particular, which produces Nigeria's per capita income, the preponderant quantum of oil, which is the mainstay of the economy. By this, we would be rectifying the imbalance in leadership composition by mainstreaming and giving the South-South people a sense of belonging in the governance of the polity.
And looking at this from the national perspective, this new political equation will help to mainstream all Nigerian minorities, ethnic and religious nationalities that are in the minorities who have been without a voice.
Jonathan is the 'Joshua' of our time, who was destined to cross his people over the Jordan at the command of the Almighty God. He should cross this country from bad leadership to good governance where every Nigerian should be proud of. He needs only to be courageous and focused, bearing in mind that God is with him to do justice to all manner of men.
The President's good luck
No doubt, Mr President is a man of good luck. Look at his antecedents; from his days in his home state Bayelsa from where God picked him up to his journey to the presidency and his reception and acceptance under this short period by the international community; indeed, his name Goodluck is going places for him. And you can see that since he came on the saddle, the economy is beginning to look up, at least, the discriminating pump prices of petrol at filling stations have stabilized and power supply situation in some parts of the country is beginning to give residents some hope.
Zoning and PDP
Our National Chairman, Dr Okwesilieze Nwodo, has clarified this issue of zoning and it is now known that there is nothing like zoning again in the PDP. And I believe that this is a good omen for our party and Nigeria in general. We can now be sure that President Jonathan will have an ample time to conclude the programmes initiated by the late President Umaru Yar'Adua, as well as frame new ones that would help to reshape the country from 2011.
Advice to Nigerians
I urge them, particularly Ndigbo to not only give their total support to Jonathan for the 2011 presidential election, but to also demonstrate such support. We have come to a stage in the life of this country when reason has to supersede every other consideration; when our political calculations have to be based on equity and overall interest of the people we govern rather than our selfish interests; when we have to actively demonstrate solidarity on fairness; when we have to see reason to earnestly begin to work together as brothers and sisters irrespective of religion and tribe.
South-East politicians
The South-East governors have started well by declaring that they are not interested in the 2011 presidential polls. What that means technically is that they are not going to pose a challenge if Jonathan declares his interest and will not be available as second fiddle used in the past to divide the Igbo by offering him the vice presidency position. Therefore, I would want all influential politicians from the South-East to come out so that we can join hands to openly canvass for the Jonathan presidency. I think there is the need for all Igbo political leaders to come out to organize a 'mother of all rallies' to drum support for Jonathan.
Why I left AD for PDP
When I joined the PDP in 2009, I chose to do that unceremoniously, without fanfare. There is time for everything and time has come to move from the politics of resistance to the politics of governance. It is more profitable, more resourceful to influence government policies from within than from without, to the benefit of the people, to provide the people of Enugu State, and the South-East a credible voice in tandem with other progressives in Nigeria.
Why I am not contesting now
Presently, I am deeply engrossed in the campaign for the domestication of Stem Cell transplantation technology in Nigeria and, indeed, the entire African continent. You know that Stem Cell is the 21st Century medicine and medicine for life. Once the domestication commences, Nigerians will begin to pay less for the 21st Century medicine, cut down overseas medical trips as well as live younger, longer without the infirmities of old age diseases. I see the domestication of this medicine as my little contribution to boost good governance in Nigeria as it will help to ensure that both the government and the governed remain healthy.
And when this happens, we will cut down on foreign trips for medical treatments. However, I am still a politician; it is only that I am playing now from the sideline, so as to give direction to my followers.