Gbong Gwom Jos Returns, Debunks Rumors Of His Death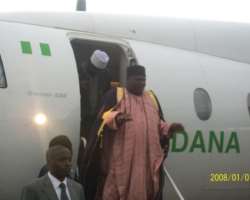 PHOTO: THE GBONG GWOM JOS, DA BUBA GYANG ON ARRIVAL ONBOARD A DANA PLANE.

JOS, JULY 13, (THEWILL) -The Gbong Gwom Jos, Da Buba Gyang returned to Jos, his base this evening putting to rest speculations that he has died.
The Gbong Gwom has been away from Jos for the past two weeks and in his absence came a wild rumor that he died while undergoing treatment at an unnamed hospital in the United States.
Reports came on Monday morning came that the Gbong Gwom will return from his US trip yesterday even as there were apprehensions that it might not be true.
But in the evening his plane touched down at the Yakubu Gowon Airport Heipang, where many of the district heads in the Chiefdom had gathered to receive the traditional ruler.
Speaking with newsmen at the airport, the Gbong Gwom debunked rumors of his death saying it is not true that he died stressing that he is very much alive as everybody can see.
He explained that he was only away to the United States to attend a convention programme of his church, the Seventh Day Adventist Church and returned when it was over.
He said the people of the state should shun rumors and live in peace with one another.