Why I don't have a girlfriend - Alex Ekubo, Mr Nigeria runner-up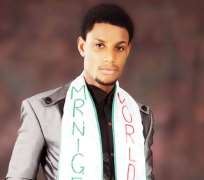 Alex Ekubo emerged the first runners-up in the second Mr Nigeria contest. He is a model as well as an actor. He speaks with ADA ONYEMA about his career and love life.
How did you come about contesting in the second edition of Mr Nigeria?
I didn't plan it at all. A friend of mine sent me a text on a Friday and told me that the screening for Mr Nigeria contest was coming up the following Monday. On our way to getting the form, we had an accident. But we still went for the screening and I was among the lucky 10.
What was your experience in the competition like?
The camping was fantastic. But it was very challenging because the contest was not about good body or handsome face for billboards. You have to be physically fit and mentally alert.
How do you feel emerging as the first runner-up of Mr Nigeria?
I 'm very grateful to God. My family and I feel it is a great priviledge to wear this heavy crown. Right now, I'm like a mentor to a lot of Nigerian youths, because a lot of them are looking up to me.
Did you feel bad that you did not emerge as the overall winner?
No. I am from a religious home, and we were trained to give thanks to God in all circumstances. Everything happens for a reason. God destined it that I was going to be the first runner-up. The first runner-up is like the Vice President, and it is a very crucial position. A lot of people refer to me as the second most desirable man in Nigeria. No ill feelings.
Most parents kick against their children taking part in this kind of contest. Was that the case with you?
My family has been very supportive of my decisions and aspirations in life. They have been there all the way praying for me. They were there at the contest to watch me.
Even your pastor did not kick against it?
No. They even had a prayer session for me in the chuch.
As a celebrity, do you still keep your old friends?
I still keep in touch with my old friends, knowing actually that this position comes with lots of new friends. Most of them are genuine while most of them are not. So, I am very careful and keep in touch with friends with whom I have been through thick and thin. I am still me; I have not changed. The thing about the contest is that I believe that after me, there will still be another first runner-up. Before me, there was a first runner-up. So, I have to keep a level head.
You had modelled for five years before Mr Nigeria. How do you see modelling in Nigeria?
Well, compared to our foreign counterparts like France and South Africa, Nigeria is still walking. But we will get there, because everyday, it is getting better. I believe with time, Nigeria will get to that level. But for now, we are still work in progress.
What is your take on nudity?
Presicely, if I would model nude, I think it is a personal thing. I will not model nude. It is not that I have anything against nude models. If a job is there to be done, I think somebody has to do it.
Assuming you are called to do the job?
If I am accosted to model nude, I won't, because first of all, I hold a public office. A lot of youths look up to me. And the way I think might not necessarily be the way they see things. They may get a wrong idea about it.
Does that mean you could model nude after your reign?
I come from a religious family. I will not model nude.
Even for 10 billion dollars?
Don't push me, 10 billion dollars is a lot of money. With 10 billion dollars, I might, and move to space and start up my family.
There is this general perception that people in the modelling and entertainment industries are wild. Does it not bother you?
That is true. But I strongly believe that those in entertainment industry are like other individuals in other professions. Modelling, acting or entertainment is an act, a passion and what you love to do. It is like a footballer, for instance, who has got passion for the game. So, if you have the love for something, it does not make you any less. I try to correct the impression they have about models and actors the world over. Every job has its hazards. There are bankers who are constantly harrassed by their bosses. There are lawyers harrassed by their bosses and students harrassed by lecturers. It does not make the profession any less prestigious. So, if in the entertainment industry we suffer a few harassments here and there, it does not make it any different from the lawyer who is being harassed in the chamber or banker in the bank or in any other corporate office.
As an actor, what was your first movie and how much were you paid?
My first movie was Sinners in the House, by Lancelot Oduwa Omaseun. That was 10 years ago. It wasn't nothing major and I was not expecting anything from the director. But he later brought an envelope. I was surprised that I was paid for it. But it was peanuts.
You were paid peanuts but you continued. What then inspired you, the money or the fame?
It is not the money, because when you compare us with our counterparts in Hollywood, they get better payment, recognition, accolades and awards. But to me, in Nigeria, it is more of the love of the business. It is not really about the pay, because a lot of actors are very successful business men and women who don't just rely on acting; they have got various businesses that earn them money. If you look at what you are paid at the end of a movie, it is nothing major. So, we are just doing it for the love of the industry and the art.
So, what did you study?
I studied Law and I have a diploma in Mass Communication. I'm doing a second degree in Theatre Arts, all from the University of Calabar.
What do you intend to do after your reign?
I will continue with modelling and acting. I have an initiative I want to float, and that will take most of my time.
By the time you leave as Mr Nigeria, what would you love to be remembered for?
I would like to be remembered as a Mr Nigeria that was very close to the youths, because I have been to all over Nigeria and I understand a couple of languages. Nigerian youths are ver talented. They have got skills. They work with little resources within their disposals. It pains me that most of them have got big dreams but they don't know how to go about them. I like to be remembeted as Mr Nigeria with a vision. Not just a handsome face, but one who has got motive and drive.
How about your girlfriend?
For now, I don't have any girlfriend.
You mean babes are not attracted to you or vice versa?
I had a relationship, but with a bizzare twist of fate, we broke up a long time before the Mr Nigeria contest. I have come of age. I have focus. I don't want to be everywhere with scandal or this break-up or another. I'm taking it slow now. I have come across a lot of girls in this short time, each one promising love and care, but I'm taking it slow to be sure I make the right decision.
When do you hope to do that?
You never know when it comes.
Who is your ideal woman?
I like to have a lady who has the fear of God, intelligent and beautiful.