COLOMBIAN FARC LEADER'S 'BODYGUARDS DIE' IN ARMY RAID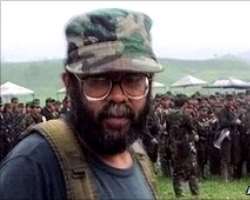 Twelve bodyguards of Farc rebel Guillermo Saenz have died in an army attack, including the rebels' top female commander, officials say.
Commandos launched a surprise raid on a base of the rebels' supreme leader in central Colombia's Tolima mountains.
Colombia's army chief said it was a severe blow to the Farc, which has been fighting the state since the 1960s.
In separate clashes between troops and rebels over the weekend, 10 soldiers died, officials said.
Colombian President Alvaro Uribe congratulated the special forces team for the operation, which is said to have taken place in the early hours of Sunday.
Mr Uribe said: "I can confirm that one of the guerrillas killed in the operation was a woman named Magaly. She was responsible for the deaths of at least 70 soldiers and police officers."
He was referring to Magaly Grannobles, who commanded a rebel unit.
The commander of Colombia's armed forces, Gen Freddy Padilla, described her as "an extremely dangerous criminal and a trusted confidante of the Farc leader".
Gen Padilla said the killing of the Farc bodyguards was "a decisive move against the security apparatus that guards the leadership of the Farc".
Slip the net
The fact that the rebels did not melt away, as is their usual practice when facing a large military force, suggests that Guillermo Saenz, who also goes by the name of Alfonso Cano, was nearby at the time of the attack, says the BBC's Colombia correspondent Jeremy McDermott.
The fact that they stood and fought indicates they were under orders to hold the army advance to allow the Farc leader to slip through the net the security forces were trying to throw around him, our correspondent says.
It was also a bloody weekend elsewhere, as rebels step up attacks with a month to go before the president-elect, Juan Manuel Santos, is due to be sworn in as Mr Uribe's successor.
Fierce fighting on Sunday between the army and the Farc in the north-eastern province of Arauca, which borders Venezuela, claimed the lives of 10 soldiers.
The clashes came a day after separate attacks blamed on the Farc left three police officers, two soldiers and two civilians dead in the south of the country.
The Farc, Colombia's oldest guerrilla group, is now believed to have some 8,000 fighters.