'Going back to school has been an advantage'---Oyebola Mojirade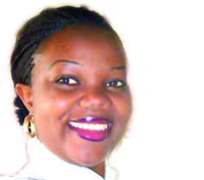 Olabisi Onabanjo University graduate, Oyebola Mojirade Adigun, speaks with TADE MAKINDE and SEGUN ADEBAYO on her career, ideal home and the movie industry.
YOU are hardly seen in movies these days unlike some years back, why the long break?
I actually took the break to go back to school to complete my education. I don't want to be referred to as a drop out who has nothing to offer. I know what it takes to be a graduate and I had promised to give it what it takes without looking back. Today, I am a graduate and I am very proud of that.
How was it like when you started then?
I have always loved entertainment since I was growing up, it has for a long time become part of me. I grew up into entertainment and I thank God for my life and humble beginning. After my primary school , I proceeded to Ogun State University where I had Diploma in Mass Communication. After that, I couldn't get admission to study Mass communication fully, so, I went for Theatre Arts. Though everything has changed now, there is still room for improvement.
Don't you see your long break could hinder your getting back into the industry?
No, I don't think so. Because I'm good at what I do, anyone that needs me will come for me. As a matter of fact, the long break was an advantage for me because I went back to school. I am also into dancing and event planning.
With the likes of Fathia Balogun, Funke Akindele, Mosun Filani and lots of them like still making the waves, how do you want to place yourself between these people considering the issue of seniority that most of your mates have complained about?
I don't want to talk about those people because we are not on good terms. I don't even talk to them.
Why?
Not that I don't really talk to them, we are just not close as many would have expected. But I don't hold any grudge against them, they are good actresses. But you can't be everybody's friend. As a matter of fact, I am closer to the males than the females in the industry. Another thing is that most of these females want you to call them your big sisters, but they really don't live up to that big sister's roles.
Do you have a problem with that?
Yes. It is a big problem. How do you expect me to call you my big sister when we have nothing together? I can call you by your first name and still give you your due respect, but when you press it too much, that's when I won't respect you. In my own estimation, respect is not by calling somebody by his or her first name, I respect you when you respect yourself.
Don't you think that hard stance can actually affect your chances of featuring in movies with them?
If I have money, I will produce my own movies.
So, the industry is that cheap that you can produce a movie because you have the money?
No, I am not saying that the industry is cheap, but to avoid being at loggerheads with anybody for any reason, I think that will be the best way to handle the situation you just noted. When you have your money, you can invite experts to help you with a film production. When they see yourscripts, they will work with you and you will have a perfect production at the end.
The complain of sex for role, what's your take?
Well, I won't deny that such disgusting act is common in the industry, but what has that got to do with me? I believe males will approach you by the way you portray yourself, but frankly, no producer has ever made that a condition for me. If I want to date a producer or a director, nothing will stop me from doing that, but it won't be because I want to feature in his movie.
How did you manage to get your roles then?
I had appeared in about eight movies before I went back to school. It was during one of the productions that Ayo Oluyemi came to my school scouting for actors and actresses. He gave us scripts and the rest is history.
Why is it that most actresses are going into event planning?
I just have passion for event planning and organizing shows.
Which do you find most challenging, appearing in musical videos or movies?
I think I love the two. In acting, you can be in location for three weeks, but for musical videos, you only do it for one or two days and leave for your house.
Has there been a time you refused to work with a producer or an organizer for one reason or the other?
I have never rejected any work from any producer or director. The only time I rejected an offer was when I was preparing for my exams. I couldn't take the job then. The events took place on a Sunday in Akure and my exams started on Monday in Ogun State.
You are a graduate of Olabisi Onabanjo University. How was life in school?
Oh, very interesting. It was full of fun, though I was not into clubbing and partying.
We hear that lecturers in your school are randy
I hear that too, but not in my department anyway.
You're an event planner that doesn't like going to clubs. How do you manage to get events?
I meet people every day and people call me when they need my services.
What next now after school?
I'm going for my Youth Service soon. After that, I will decide on what to do.
Is it proper for a born-again Christian to do what you are doing
As long as you know what you are doing.
And how do you know that you're doing the right thing as an actress?
Because I have not gone out of my way to do things I shouldn't have done. I'm doing the thing that God has sent me to do.
By acting?
Well, I have passion for acting and it is not going to change. By acting I am making a very positive impact in the lives of many people.
Does your man approve of your profession?
I don't have a man for now
A beautiful lady like you?
It's not about looks again,you have to attract a serious guy first
No serious guy has come your way?
Yes. Will you marry an actress?
Of course I can
That's what you all say in the beginning.Anyway,I can quit acting if my man wants me to.