Lagos feels the The Pulse's Sote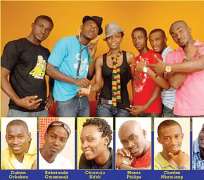 It was fun galore last Sunday when The Pulse, the 2009 Star Quest winner, of the Star lager sponsored music talent hunt show launched their debut album.
The new album, State of Emergency released at a lavish launch party held at the popular La Cachette Restaurant, Ikeja, Lagos attracted a large turnout of top players in the Nigerian entertainment industry.
Speaking at the launch, Keke Ogungbe, CEO, Kennis Music, a stable that released the new album, praised the band for achieving much within a short time of their coming together at the Star fame land.
Ogungbe said he has no doubt that the band will go places with the level of artistry display by each member of the band and their contributions to the new work. He thus encourages them to maintain the unity that exists within the band.
"With what I've seen among the band members, I see them going far as a group than the idea of going solo," he noted.
The band, in a message read by the leader, Dubem Ochokwu thanked the Nigerian Breweries plc for giving them a platform to exhibit their talents and as well live their dreams.
He noted that despite coming from different backgrounds into the Star Fame land, within a short time, they have bonded like a family.
Done with the short speeches, the night came alive interspersed with live music and comedy performances led by the Pulse, Eedris Abdulkareem, Femi Adeyinka, KSB, Gbenga Adeyinka and MC Abbey.
Since they first grabbed attention through their hit track Sote, their winning song during the quest, The Pulse has proved themselves as not just a bunch of talented youngsters but equally a band who knows her onions.