MY JURY'S DISTRESSED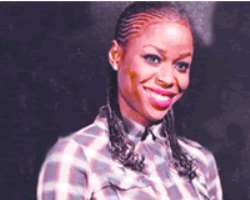 Streetwise
Your lawyer argued vehemently that you didn't flout section 23 subsection 214a of the bumper shorts code. He cited the case of Mini Vs Bumper,1990. My jury agrees that this is a street style and that you have covered-up well, just like it should be. However, your flats don't match and we have to take morals into consideration here too. Pay a fine of N500, 000.
Butterfly
You remind us so much of one of the Barney rhymes. In fact all evidence show that they actually had you in mind when that rhyme was composed. Well, it is because you are really ready to fly. Fly away especially with those matching tennis shoes. Haba! Get a life. How can you wear that on a red carpet? You have really succeeded in wasting tax payers money. Pay N800, 000 fine.


.


Veeery bush
You were nabbed because your underwear was visible to all. You have flagrantly flouted section 107 of the underwear edict and found guilty of conspiracy to commit seduction. You have been fined the sum
of N500, 000.


Nonsense boots
Information reaching us revealed that snow and ice cubes were actually falling where we picked you up. And we were also told this unusual weather occurred because of that pair of rain boots you wore to that event. Despite that fact, the weather in Nigeria varies from hot to humid. It has never been so cold to warrant those pair of boots. You have been charged for causing climate change and committing an Eurocentric crime.
Pay a fine of N800, 000.


Jabulani
Are we seeing very clearly? Of course that pair looks so much like the Jabulani ball tossed around at the World Cup in South Africa. Information reaching us shows that your Jabulani became a terror to every male participant at that event. You wore a killer red dress, which is seductive enough, and you then exposed your mammary glands. You're hereby pronounced guilty and fined N1million.


Kokolet
We all know that there is a controversy over the socks and sandals fad. In fact, reports reaching us show that this has divided the National Assembly into factions. But kokolet, even if you want to rock this trend, those black socks are out of it and you should cover-up more. Considering the nature of your offence, you have been mandated to weed the lawns at Alausa area.