WEBB TO REF WORLD CUP FINAL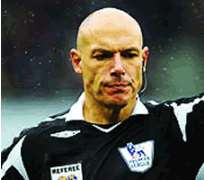 Webb
Howard Webb achieved a lifetime's dream after being named on Thursday night as the first English referee of a World Cup final for 36 years.
The 38-year-old from Rotherham will take charge of Sunday's final at Johannesburg's Soccer City along with his assistants Darren Cann and Michael Mullarkey following a decision by FIFA's referees committee.
He will become the first Englishman to referee the final since Jack Taylor in 1974 – who awarded the first World Cup final penalty ever to Holland just a minute into the match against West Germany – and follows in the footsteps of Bill Ling in 1954 and George Reader in 1950.
Premier League chief executive Richard Scudamore paid tribute to Webb and his team, saying: 'We see the hard work and professionalism of Howard Webb, Darren Cann and Mike Mullarkey week in, week out when they are officiating in the Barclays Premier League.
'So, it is great to see their fantastic season, where they have already represented English refereeing in the UEFA Champions League Final, topped off with the ultimate appointment – the FIFA World Cup Final.'