HABIBAH OYAREKHUA, EX-TV STAR TURNED MARKETER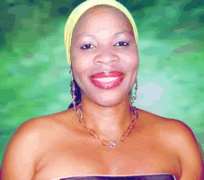 Habibah Oyarekhua
Habibah Oyarekhua was a presenter with the Africa Independent Television (AIT). A few years ago, she ditched the microphone for SPG, an oil servicing company. She is presently the Manager, Corporate Communication/Strategic Business Unit, which takes charge of Sea Petroleum and Gas Company Ltd (SPG) Diesel Home Delivery System.
The mother of one talked about her fears when it comes to relationship, the challenges of not having a man and her ideal man. Excerpts:
Transition from broadcasting to marketing
'Broadcasting is more or less being a PR person. When you a broadcaster, especially when you are on the field, you are in the public's eye and you have to live up to the expectation of the public. By the time I joined the oil servicing company and I was made the head, business and costumer relations, all I needed was to bring to fore my experience from the broadcasting background and of course, what I was doing before.
Yes, I meet challenges here and there because I had never been a marketer before.
'Marketing is not just about pretty face or speaking or dressing well. Yes, I have had it easy in some places where some people would simply recognize me as a face on T V before but it is not about that. Marketing is very difficult. The fact that you have entered an office is not a guarantee that you will see the big boss. It does not mean that they will buy your product or that they have approved your papers. It does not translate to the fact that they will buy your product because they already have their old customers so what are you going to offer that they have never seen?'
Which is more challenging?
'This is more challenging because it is a new terrain for me. I really wasn't trained formally for what I am doing now. I have to learn on the job I have to engage in self development and training. I also do a lot of reading online. It is in a bid to develop myself for the present task by using available technology like the internet. Now, I train people for costumer relations, marketing and development.'
Growing up
'I was a tomboy and I think that tomboyish lifestyle is still in me. Some people would tell me I don't walk like a lady. Now that I am in the corporate world, I need to wear a lot of high heels to be able to make me walk more like a lady. Left to me, I like my jeans and T-shirts. That's what I am most comfortable in. You can't take away that tomboyish lifestyle. Again, I feel more comfortable in male company. I grew up with two brothers with whom I am still very close to. I think because of my orientation, I feel more comfortable with guys.'
Most women say they feel a lot more comfortable in the company of the opposite sex. Can this be one of their reasons?
'For me, I think it is because of my orientation and my personal experiences with women. I feel more at home with the male folk. Women tend not to like themselves naturally. They are their worst enemies and that puts me off. I have, had some nasty experiences from my female friends so I prefer to stick to myself and I am happier. Most times these days, I see myself spending time and sharing thoughts with my daughter. She will be 13 this year. She is already matured so we talk a lot. I confide in her a lot more. If I have anything bothering me, I just leave for God.'
Could you recall what it was having a child?
'The best moment of my life was when I watched my daughter suckle for the first time. When I watched her tiny mouth on my nipple, I was so happy. I couldn't believe that I was holding another human being brought forth from my womb. Having a child is a sheer miracle.
That's the reason I say and pray that God should give every woman, at least a child. It is something every woman should experience, even if it is once in a lifetime. The feeling is simply indescribable. There is that joy when you hold your baby at birth whether it is through Caesarian section or through natural birth, it doesn't matter. It is great.'
What are the challenges of not having a man in your life?
'I think God is the man in my life. Believe you me. Nothing can replace the love of God because men would always disappoint you. It is not as if one doesn't need love but my worry has always been, would the love be returned as you wish?
Would the guy have time for you? And not only that, but who is that unmarried guy who would be bold enough to present a single parent to his family as his future wife? Except the lady is made of platinum or something, he has to package her well because the parents would wonder how he could only find a mother as his bride when there are millions of younger girls in town. They will surely raise objection
'When you think of such thing, you don't want to stress yourself, you'd just hold onto to your child. You then discover that your child is your boyfriend, your girlfriend, your husband and everything. In fact, your life revolves around her. Then, both of you would hold onto God.'
Is that your reason for not going into a relationship?
'No, no, if a relationship comes, why not? If I fall in love with somebody and he is good enough to return my love, why not?'
Talking about love not being returned, are you talking out of personal experience?
'Not really but if it is not always returned in which case, it becomes one-sided. In some cases, you discover that those that love you are not the ones you love while the ones you are yearning for are not the people that really love you. It is both ways. It is difficult to have it. Although, maybe when a guy is courting you, he would paint it nicely and make it look sweet but when you try to go further, that's when problem will come. That time, you will find out that he would not have time for you.'
Have you been in love before?
'Yeah, I would say yes. Yes, I have been in love.'
And what was it like?
'Oh, beautiful, it was beautiful. I felt like touching the skies.'
For you, what makes a good relationship?
'Time, it is all about giving me time. Because no matter how much you claim to love someone, if you don't get to spend time together, it won't work. Then, communication, you need to talk. Genuine friendship is another key point. I believe you must be friends before becoming lovers. You don't expect me to fall in love with my enemy?'
There is something called love at first sight, has it ever happened to you?
'Yeah, it is instant attraction. It had happened to me once. At the end of the day, I had left the premises when I realized how much I had talked with the guy within a short space of time. We related as if we had been friends for years. Such is the magic of love at first sight. Before you know it, you'd start exchanging cards, sending sms and spending time together. It can really be sweet but when the challenges of Lagos life begin to set in, it becomes a different story.'
Would you attribute the high rate of break ups in relationships and marriages to what you have just said?
As for marriages breaking up, I think it is due to lack of communication, too.
You have so many things bucked up inside you which you really can't talk about. Even when you want to talk about it, you would end up escalating the issue because each wants to claim right.
'Secondly, our men seem to be so much involved in their jobs. They forget that they have women at home who need their attention. Before you know it, strains begin to creep in. I think it is not enough to talk on the phone. For the woman, she sits with her peers and everyone talks about how much her husband is giving her enough time. how things are looking up. There she sits there, mopping with a far-away look in her eyes, wishing and hoping that you are more at home with her. With time and pressure building up, break up becomes inevitable in the marriage.'
If you knew this much as you know now, would you have made a mistake in your marriage?
'Maybe, I wouldn't have because no two marriages are the same. No two men are the same and each relationship has its peculiarities and diverse problems. Again, there are some relationships that are just not meant to be while some seem to be made in heaven. Some people are just lucky while others seem not as lucky.
'Sometimes, we have gotten into relationships where we say, ah, this is not meant to be at all. We pray that we shall be lucky someday in that regard but we learn everyday though.'
Some people learn from their past, do you belong to that category?
'I won't say that I really made mistake in my marriage but I still wouldn't say that I didn't try to make it work. I think it was just not meant to be.'
Who is your ideal man?
'Ah, my man must be intelligent. Someone who can pick my brain and be smarter than myself. He doesn't necessarily have to be handsome because I don't think there is anyone who is ugly but he has to be taller, of course.'