AFEEZ OWO DENIES BREAK IN MARRIAGE TO MIDE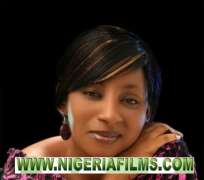 It's no longer news that Afeez Owo, the funny character in Yoruba movie whose face is designed with some tribal marks recently revealed to some friends that his marriage to late Funmi Martins' daughter, Mide is as solid as Mount Gibraltar.
This revelation was made when Afeez was contacted to comment on the alleged adultery the pretty Mide committed with a certain Lagos politician who is an Honourable in the Lower House of Representative. Sources said that Mide is actually having a smooth sailing secret affair with the politician who has been showering her with gifts and money.
When Afeez, we learnt, got wind of his wife's romance with another man, he was said to have called her attention towards this and Mide, we were told, flared up and moved out of her matrimonial home. Afeez frantic effort to salvage the situation yields no positive result as the beautiful actress allegedly packed out to a friend's house.
Presently, the two are said to be living separately while Mide has taking the custody of their baby. One of the reasons MIde was said to have moved out of her matrimonial home is based on the fact that Afeez has always turned her to a punching bag whenever he hears any allegation of secret afair linked to his estranged wife, Mide and also Mide's elder brother, Tunde, from inception, has showned his reservation towards their marriage. The reason, according to sources is because Afeez is to local to be presented as a brother-in-law.
Afeez and Mide started their affair before the demise of Funmi Martins who was then an estranged wife of the Afro Juju czar, Sir Shina Peters. Shortly after the death of the woman, Afeez who was an errand boy for the late actress/movie producer then put the then innocent but pretty girl in family way.