Uche Mac-Auley returns with Tales for kids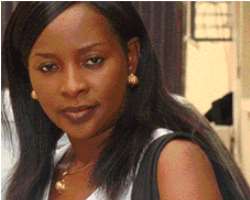 After a long absence from Nollywood and the nation's entertainment scene, pretty and pioneer Nollywood actress, Uche Mac-Auley is back and combining acting with children publications.
Interestingly, the unassuming star of several Nollywood movies and soaps, including the defunct Checkmate, recently released two of her works, amid applause and panegyric. Published under the trademark name of Tales from Uche Mac-Auley, the two books currently serenading pupils of primary and secondary schools within and outside Lagos, are Jabari and The Lion and the Fawn.
Both colourful and well illustrated books and others still on the way are being published for her by ONX and Media Waves limited. In a recent chat with us, the soft spoken actress from Delta State disclosed why she's been away from Nollywood as well as reasons for going into children literature. "I chose to take a long break from Nollywood in order to concentrate more on my first love, which is writing for children and encouraging their literary abilities. And now that the dream has become a reality, I've equally decided to retrace my steps back to Nollywood.
My husband and I are currently putting finishing touches to our latest movie. It was painstakingly shot and we intend storming cinemas with it soon. In fact, I have a whole lot up my sleeves now that I'm fully back in the spotlight of Nollywood," she said with a smile. The highly revered thespian, equally disclosed that she would soon embark on a tour of some selected schools within and outside Lagos, to commence the reading of her books to students. "I'd always love writing for children and now that I've started, I do not see anything stopping me. I have over a dozen works that are yet to be published, that is to tell you have far I've gone."
The effervescent actress stylishly returned as the lead act in the new work professionally shot by her husband, Solomon Mac-Auley and entitled: In a Lifetime. The flick, according to the privileged few that were privy to catch a glimpse of its preview copy, all agreed that it's surely a new direction and bold step for the rejuvenation of Nollywood. Dear readers, you would definitely be the first to know as soon as the latest movie couple in Nollywood give more details about the world premiere and cinema time-table.