PSN PARTNERS US FIRM TO FIGHT FAKE, COUNTERFEIT DRUGS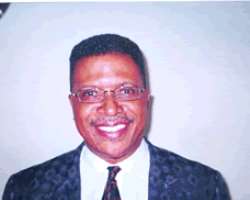 Ams
The Pharmaceutical Society of Nigeria (PSN) is partnering with GlobalPCCA Verifications Limited to fight fake, counterfeit and substandard drugs. GlobalPCCA Verifications is providing three technologies that have anti-counterfeiting device for the programme. They include the Pen Tester, Tray Tester and SMS verifications.
Briefing the press on the collaboration, the Chief Executive Officer and President of GlobalPCCA Worldwide, Dr Steve Ams said that many companies and banks have shown interest in subsidizing the cost of the products for their customers, however, he hinted that the cost of the Pen Tester will be a maximum of N5,000.
Dr Ams assured that the technology in the devices cannot be faked or cloned and has been tested and used since 1992 in the United States.
Responding, PSN President, Pharm. Boniface Azubuike Okwor re-assured the commitment of the PSN in ensuring reduction of fake and counterfeit drugs in the country.
He commended the anti-counterfeiting devices made available by GlobalPCCA Verifications and pledged that PSN will work to ensure that every pharmacist obtain the technology and use them in their practice.
According to Dr Ams, 'I believe that if we work together and push this forward, we will help our community, we will help our doctors, we will help our pharmacists and we will help our patients nationwide. Actually, since December last year in Abuja, we introduced a technology called Radio Frequency Identification (RFID).
'In March this year, we visited again at the Yar'Adua centre in partnership with engineering group called VTR and announced that we will come up with more of our equipment and devices. The first one that we brought is called the Tray Tester for testing drug. We created this tray for affordability purpose, its efficiency is not compromised, and nothing is compromised.
'If you put a product on the Tray, the green light will tell you if the product or medicine is good, and the red light tells you the medicine is not good.
'We also have the Pen Tester, in the shape of a pen. This Pen Tester is battery operated and does not need electrical power except for re-charging. So, every citizen of the country can use this Pen nationwide because it is battery-operated and it is rechargeable.
'We took technology used by United States (US) Department of Defense, installed it in the Pen Tester so that it cannot be copied or duplicated. So, this technology cannot be copied or duplicated or cloned for that matter. You can use it in the village, use it in the community with the principle of red light says stop, the drug is fake and the green light says okay, the drug is genuine or good.
'We have a card that you strap on your product, if you manufacture bottled water for instance, you strap the card on the bottled water. And once you do that, that is strap the card on your bottled water, we will be able to read the card with our Pen Tester to know whether the bottled water came from the genuine manufacturers or from the counterfeiters.
'We want to empower the average guy who is sick not to be made 'sicker' if there is any word like that. You have now the power, you are not waiting for the chemist to tell you whether this is a good drug or a bad drug.'
'We also have the SMS system of detecting counterfeit drugs and products. You scratch and test to 32144.
'We went one step further with that technology, we have scratch and test, we have scratch and browse for those on the internet service. The same number on the scratch material can be keyed in into our website which is www.checkfake.com and it would show red light for bad drug or a green light for good drug.
'We also have scratch and call for people who will have the convenience of just calling. They can scratch and call our national numbers in English, Hausa, Yoruba and Pidgin.
'Also, if you put our tag on a document, with our Pen Tester you can verify if the document is genuine or fake. If you try to remove the tag and put another one there, you will destroy both the tag and certificate or document. So the tag is self-detruct, and in that condition don't give you a green light because anybody trying to tamper with the tag is trying to do something wrong.
'The tag will be easy to attach to products nationwide, this include food, drugs, cosmetics and everything. It covers everything that can be tagged by approved manufacturers who also have what we call electronic product code so that they can treat and trace their product in the market. So, instead of losing their share of branding in the market, they can be able to account for and see the genuine growth of their products.
'Just think of this device everywhere in the country, people being able to test before they buy products and pharmacists being able to test before they stock their pharmacies, counterfeiters will be run out of business.
'There are other more complicated devices that we have, that can analyze chemicals in a product, but affordability becomes an issue.
'As a pharmacists, if I just run the Pen through products before I stock, I preserve my business and I preserve the life of my patients.
'The Pen has a technology that is in-built, as simple and as beautiful as it looks, this pen has the potential to preserve lives. Who uses it? United States Department of Defence, Diaper, its been used by Pfizer for Viagra, its been used by Podul Pharmaceuticals, its been used by retail stores like Walnut which is the largest in the world, its been used by J.P Pen and our company. The technology actually came out in 1992, so it was not invented by us, its been in use since then.
'But what we are able to do is to create a device or equipment that uses a technology that cannot be cloned, copied or duplicated. Affordability? This pen here is going to be subsidized by a number of companies for their customers. Some banks have come forward to show interest. And the moment, it is going for a minimum of N5,000, the price of a cheap handset.
'We are going to work with the Pharmaceutical Society of Nigeria (PSN) to help us push it further among their professional group of pharmacists. And we are happy to say they have supported us from the onset till today. They've been very helpful and very supportive of this programme,' he said.
Responding, President of PSN, PHarm. Boniface Azubuike Okwor said, 'Our concern has been rational use of drug in this country. We are not comfortable with the name the country has assumed in counterfeit medicine. We know that it is a global problem, we also know that each country has to work hard to ensure that there is minimal of impact of faking and counterfeiting within the boarders of each country.
'Indeed we were glad when we came in contact with GlobalPCCA and a host of technologies they are bringing. Nobody is saying with the Pen Tester faking and counterfeiting will stop, all we are saying it is something we will like to work with. That does not still remove the political will to ensure that a structured drug distribution is put in place for this nation by government. All that this technology does is that it identifies a product. If a product is stored very badly it is not going to tell us that it is stored very badly. So, it is not going to analyze the product. So there is more challenges than identifying a product. But by and large, it is a useful tool for our profession to be able to do our job as professionals and to ensure that every drug that we stock is genuine.
'We are working to ensure that every pharmacist obtain this technology,' he said.