10 Unforgettable Moments From I Am Laycon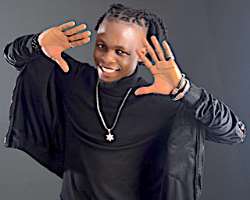 My name is Olamilekan Agbelesebioba… I'm an artist. Music has always been a part of my life, it's like 'why do you breathe'…"
It's with these words that Laycon ushers us into his colourful world on the record-breaking Showmax Original, I Am LAYCON.
I Am LAYCON follows Big Brother Naija season 5 winner Laycon as he navigates his way through new-found fame while chasing his music career. Though music is at the centre of the show, Laycon's tight-knit crew shines through, giving us some of the most unforgettable moments.
Bonus video:
Laycon being naughty for five whole minutes: https://youtu.be/WFa_Emx6VMo
From heartfelt conversations to sibling squabbles and cameo appearances from some of Nigerian music's biggest names, here are 10 unforgettable moments from I Am LAYCON.
1. Laycon addresses the Erica issue
With bated breath, fans wondered if there would be any mention of the infamous fallout between Laycon and Erica, and Abayomi, Laycon's older brother and personal manager wasted no time in diving into the heart of the matter.
"But you know you caused a lot of kasala when you were in the house…." he started.
"People were literally calling me, telling me to tell you to stay focused on the game. Like say I fit carry phone call you inside the house say 'guy how far o, stay focused on the game, forget this Erica chic'…"
And just like that, the elephant in the room was finally acknowledged, prompting Laycon to address the misconceptions around the situation. For him, the fact that he said he liked her didn't mean he was going to act on it.
"There's this misconception when I said, 'I like you, I'm attracted to you,'" he tells viewers. "It doesn't mean I want us to do something about it. I'm just telling you."
2. Laycon's date with Lilo
There's no forgetting the playful lunch date between Lilo and Laycon where Lilo famously shot "I have a boyfriend" in response to Laycon asking about her relationship status. Fans could not get enough of the pair as they tweeted their reactions.
@obianujunwa56 tweeted: "Lilo is such a sweetheart. I was blushing like say na me dem dey toast #IAmLaycon #IAmLayconShowmax #IamLayconPremiere"
https://twitter.com/Obianujunwa56/status/1359658823091425283
@toniabella44 also tweeted: "Lilo and laycon #IamLayconPremiere #IamLaycon"
https://twitter.com/Toniabella44/status/1359730714296614913
3. Joeboy's 'Celebration' video shoot
Fans of Laycon will attest to the bromance that Laycon and Joeboy share, and this played out on I Am LAYCON as Joeboy invited Laycon to be a part of his 'Celebration' music video. There were also cameo appearances from Blaqbonez, Ckay and Jinmi Abduls.
4. Laycon's studio session with Vee and Pheelz
While in the Big Brother Naija house, Laycon and Vee struck up a friendship and even spoke about recording a song together. So, it was with great excitement that fans welcomed Laycon and Vee back on their screens during a studio session with ace music producer, Pheelz.
5. Laycon's blind date
In keeping with being the life of the party, Abayomi decided to set Laycon up on a blind date and fans could not contain their excitement at the prospects.
@idiataO tweeted: "Tomiwa has been getting me thinking, showmax hint us wetin Happen to tomiwa and Laycon WATCH I AM LAYCON WATCH I AM LAYCON"
https://twitter.com/IdiataO/status/1360164405468561409
@TeamMiracleada2 also tweeted: "Tomiwa is really smart. The girl go finish Laycon with questions. Rewatching again I AM LAYCON"
https://twitter.com/TeamMiracleada2/status/1359778946301231104
6. Laycon's injection episode
Is there anything funnier than seeing a grown man retreat from an injection-wielding nurse? Fans saw a different side of Laycon after he took ill and had to be given regular injections, and wasted no time in having a few laughs at his expense.
@dreamyonce tweeted: Laycon shouting like a baby on top injection!
https://twitter.com/dreamyonce/status/1367625160367431680
@Nkach1chinma also tweeted: Episode 6 was very funny Laycon is scared of injection #IamLayconShowmax
https://twitter.com/Nkach1chinma/status/1367370978641260544
8. Abayomi's car crash
Things took a downward turn for Abayomi after he crashed Laycon's car on his way out with friends. But even more interesting was Laycon's reaction to the incident which had Tariela, Laycon's Content Manager completely baffled.
"Are you serious, are you this calm? Before the accident you were always screaming and shouting, don't touch my car, don't do this, just know how you drive the car, now an accident has happened like you predicted and you're this calm…"
Talk about a plot twist.
9. Laycon's fight with Abayomi
Abayomi may have established himself as the life of the party on the show, but he wasted no time in setting Laycon straight after he went hanging out with his friends without security or informing anyone.
"You went out to eat where? There's no food in the freezer? You can't just go out anyhow!" Abayomi exploded at Laycon.
Ouch!
10. Dinner with the team
In an emotional season finale, Laycon hosted a quiet dinner party where he recounted the role everyone played in his journey so far. He also performed some of his tracks giving fans a taste of what to expect from his music career.
Watch all 10 episodes of I Am LAYCON on Showmax. Subscriptions start from N1450 per month; more info at www.showmax.com.