ZACK ORJI SPEAKS ON FRAUD, AFFAIR WITH GHANA MINISTER'S WIFE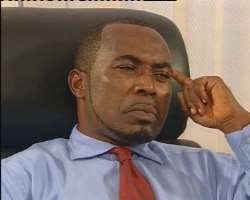 The fraud allegation being perpetrated by Zack Orji, one f the veteran actor/producers in Nollywood against a certain movie maker in Ghana, Mrs. Cilasi Ibrahim married to a prominent politician in Ghana who was a minister in the last political dispensation in Ghana. The soft-spoken movie maker, Zack Orji, according to the story allegedly said to have emanated from Mrs. Ibrahim's quarters, defrauded her of about $12,000 being the cost of the money invested in a movie, Zack was supposed to shoot for her.
The story continues that, Zack Orji, having finished the shooting of the movie, collected the master tapes and left for Nigeria where he was said to have given it to a marketer, Christian Deo Movies Limited who released it into Nigeria market without her consent. Ever since Cilasi got wind of the fraudulent act, she was said to have threatened with fire and brimstone for the money she committed into the said movie production.
"She pleaded with Zack to return her money but all to no avail." We gathered. When we got this information, effort was made by us to have a chat with Mrs. Cilasi over the fraud and affair allegation level on her and the Nollywood star, Zack Orji. "It's actually true that I made some financial commitment in that movie. I decided to withdraw my interest due to the fact that I wasn't pleased with the way things were as at that particular time. I have to check my record to know how much money he's till owing me, he paid some money through his agent but I think, it should be something around $7,000 that's left to be paid.
And on the issue of love affair, I am a happily married woman; I wasn't staying in the hotel with them during the shooting of the movie. How would I have engaged myself in such a nasty behaviour?" The Ghana born actress cum bizwoman said.
Mr. Zack Orji was contacted and he said this in defense of the alleged fraud and adultery mess.
"Cilasi Ibrahim is nothing but a liar. The money she coughed out to partner me in my movie was only $6,000 and nothing more.
When we finished the movie, we both agreed, on a verbal term, that I would take care of the Nigeria release while she would handle Ghana, her base, marketing. When we finished the whole project, Cilasi, her husband and friends were all at the premier of the movie and we had so many people that pledged close to $5,000. By the time I came back from my trip in Ghana, my marketer, without my consent, released the movie into the market.
That action of Christian Deo seriously pained me but on a second though, I was like, after all, we have both agreed to take whatever accrued from the sale in each other's country as gains. But to my dismay, I heard the rumour that, I have duped her and worked contrary to our agreement. To please her and make peace, I went back to Ghana and told her to redeem all the pledges for herself as part of her own deal.
And I also printed 7,000 posters and 1,000 posters, took it to a marketer in Ghana and asked Cilasi to go get them there. All this was to no avail, because it was after a while that my agent in Ghana told me that Cilasi actually didn't go to collect those posters and jackets from the marketer because she said she felt cheated. It was then I went out of my way to get $3,000 across to her as a gentleman whom I am.
I did all this because, I didn't want her to feel that maybe I defrauded her of anything. When I released mine in Nigeria, nothing really stopped her releasing hers too in Ghana but because of her anger, she spoilt it all." On the issue of having an amorous affair with her, Zack who is married to Ngozi, another movie idol reacted. "Over my dead body! I won't ever do a dirty thing like that. Cilasi is someone my wife knows very well, they met in Ghana and she knows there was nothing else between us aside the business we both executed." He explained to www.nollywoodgists.com