Rated X Throwback:Yogo Pam Pam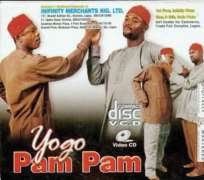 Long before Nkem Owoh became the toast of Nollywood comedy, he forged a successful partnership with Okey Mac-Anthony aka Okey Bakasi in a few home videos that would later help sit him atop the humour pedestal. One of their collaborations, Yogo Pam Pam was a mid-90s sequel to their first, Pam Pam.
Adventures of Loco and Mambo
Mambo (Owoh) and Loco (Mac-Anthony) are two ill-oriented ambitious friends who will do anything, except work, to make money. Their desperation got even hotter when a friend of Mambo's promised to take them to America if they could raise a certain amount within a month. Eager to travel abroad, the two not so smart and naive friends attempt various ways to con their way to their target. They involved Yogo, a girl whose love they'd both tried to win unsuccessfully, to join in their con rackets because she was desperate to leave her stepmother who had been consistently pressuring her to get married.
All through the movie, the duo, with Yogo in tow, provided viewers with great humour. Their ludicrousness was actually fun to watch. In an instance, while Loco was trying to woo Yogo, he went to her house and met her reading a magazine; the following conversation ensued:
Loco: You dey read magazine?
Yogo: No, I dey baf!
In its time
A re-watch of this movie reveals that the slapstick remains irresistible and each character appears well suited for his/her role. The young barber who probably was having his movie debut at the time also fit well into the comedy. After rendering a crazy, patchy haircut he called 'Fuel Scarcity', he escapes getting lynched by the unfortunate customer whose hair he just rubbished, ridiculously saying afterwards, "If I had known, I for barb am Up Nepa!" Crazy isn't it?
Even though Yogo Pam Pam cannot be said to be the duo's best movie ever, it sure stood as one of the best in its time.