Episode 2 Of Nancy Isime's 'Jollof With Me' Airs Tomorrow, Here Are 3 Things To Look Out For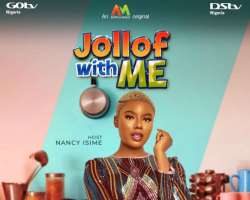 Nancy Isime's new show on Africa Magic, 'Jollof With Me' makes for the type of easy Sunday shows you read about in novels. If you're looking for a good TV show to kick back with after a hectic week, then 'Jollof With Me' is the perfect one.
The first episode which aired last week featured foremost Nigerian comedian, Basketmouth who recently released a critically acclaimed album, Yabasi. Nancy and Basketmouth's very engaging but light-hearted conversation saw Basketmouth make a number of revelations about his journey to becoming one of the most popular and celebrated personalities out of Africa.
The second episode airs tomorrow and judging from how good the first one went, we're sure we're in for a good time. Below are three things we're especially looking forward to on tomorrow's episode.
Celebrity guest - It's not every day we get to see our favourite celebrities in a laid-back setting like the one Nancy and her team have on 'Jollof With Me', so that is number one on our list of things to look forward to. Wanna take a guess on who Nancy's next celebrity guest will be?
Fun conversation - If we learned anything in the first episode, it's that Nancy knows how to strike up and hold a fun conversation. From the kitchen to the living room, we saw her glide from one topic to another without breaking a sweat, and her guest was also obviously enjoying the conversation.
Nancy's effortless slay - For the first episode, Nancy managed to find a perfect balance between casual and glam in a denim crop top and black pants. Her stylishness is one of the many things that has endeared her to fans and it's good to see she's not letting up on 'Jollof With Me'. We can't wait to see what she wears tomorrow.
Hot, steaming jollof! - Of course, it wouldn't be 'Jollof With Me' without a steaming plate or two of jollof rice somewhere in the vicinity. While Nancy and her guest are carrying on with their chit chat, Chef Mary, the show's resident chef is in the kitchen cooking up a storm. And even though you obviously can't taste it, you can tell from how yum it looks and the guest's reaction to it that Chef Mary's jollof bangs!
'Jollof With Me' airs every Sunday on DStv 198, GOtv 29, at 7:00 pm WAT and Africa Magic Urban ch. 153 and Africa Magic Family ch. 154 on DStv and Gotv ch.2 at 8:30 pm WAT.