HAIR WAR, WHO BECOMES MOST CREATIVE HAIR STYLIST 2010?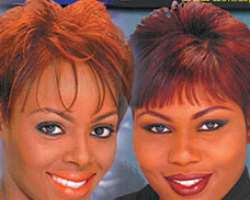 The 12th of June witnessed the South West preliminaries of the Nigerian hair show 2010. The event, which was held at the Duban International Hotels Ogba, brought together different hair stylist within the South west region who came to showcase their talents. Nigerian hair show is held annually to showcase Nigerian hair, culture, brands, and creativity.
This year's edition will mark the 6th edition of the Nigerian Hair Show. Among the eight participants at the show are Mayor Beauty Salon, Princess Salon, Platinee Unisex Salon, Remarkable Salon, WDC Salon, Angel Beauty Salon and Steph Salon.
For the first time in the history of the competition, wigs were created from X-pression product called schary. This was used to judge the best creative stylist. The stage competition was also competitive as it was a time conscious affair.
Some of the judges at the competion who include noteable style writers applauded the creativity.
At the end of the event, four salons qualified for the grand finale of the competition. They include Remarkable Salon which took the first position, Platinee Unisex Salon came second, the 3rd prize went to Mayor Beauty Salon and Princess, 4th. They will be joining others from the South-South and North East for the grand finale scheduled to hold in September.
Among the sponsors of the event are X-pression, Ranabell Hair, Duban International Hotels and Golden Moments. The qualified stylists got products courtesy of the sponsors.
This also marks the search for the most creative, outstanding and innovative style writer of the year. According to Project Director, Mr. Chukwuma Emmanuel, this year's event comes with prizes for incisive reporting. He also said that the finals will dictate the pace of creativity in Nigeria.