I DUMPED GOSPEL FOR R&B. SO WHAT? – LADY GLAZE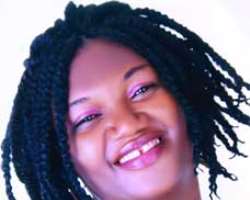 Lady Glaze
Peace Chinenye Chukwuka popularly known as Lady Glaze is one artiste whose musical experience has really made ways for her in life. She is a songwriter, singer, entertainer and fashion designer. Her entry into the music industry could be traced to her early days as a chorister in the Church of Rock Mission, Jos, Plateau State. Here, she used her talent to worship and praise God as well as entertain and educate people. In this encounter with Blockbuster , Peace reveals her personality, experiences and challenges in music, including her marital life. Enjoy:
Background
I was born and bred in Jos, Plateau State but I hail from Anambra State. I lived in Jos till I got married and only came down to meet my husband in Lagos.
Passion for music
I have passion for music. I always try to prove my mettle whenever the opportunity presents itself. Through me, so many music lovers were converted to follow the right path towards salvation. Having made exploits in my church at Jos then, I decided to compile my songs in an album, entitled, Due Time in 1999. The album was really an interesting one, but it could not make the much-expected impact due to poor marketing and promotion. But I did not allow that to affect my musical zeal, I strived to achieve my heart desire. Since then, I have been busy working on a new album that would stand the test of time.
Moving into R&B
When my first album could not make the desired impact, I relaxed for some time to re-package myself. So, having spent about 11 years in the studio, I bounced back recently with some R&B songs that would educate the public and as well make the music industry great. This time round, I dropped the gospel aspect because of people's demand. The new album entitled, You Will Know Me Well has seven tracks with Party Time as the hit track. I started working on the album last November.
The message
My new album is all about love and marriage. It's about couples that have found each other and ready to celebrate their love and union. It advises the young ones to understand what marriage is all about, and what to do before getting into it. The album also encourages married couples to maintain their marriages, and avoid divorce cases. In fact, it is meant for mature minds.
Challenges
I am an independent artiste. I decided to be independent due to lack of encouragement and disappointments from recording and marketing companies in Nigeria. Music industry in Nigeria is competitive. We do not have recording industries that support upcoming artistes, many of the successful artistes also refused to support the upcoming ones to grow. Therefore, they find it difficult to cope. So, that is why I decided to be independent, and I think I will make it. I plan to establish an outfit, 'Sprout Entertainment' to assist upcoming artistes discover themselves. Such would go a long way in boosting the morale of both existing and yet-to-be artistes.
Family life
It is not easy to combine motherhood with a career. You really need to do a lot to make sure that there is no loophole. You really need to balance the two. Most times, my kids distract my attention. But what makes me cope is that my husband is behind me. He encourages me to do what I am doing now. He does not want to be a hindrance to what I am doing because I was into music before I married him. In fact, my family enjoys my career because it does not stop me from attending to their needs.
Advice to young women musicians
African women should choose jobs that would give them time for their families. Too much commitment to career among women has led to quarrels and divorce. Today, men are more active in music because they devote more time to it. But women should not relent rather they should make use of what they have. Also, women should be faithful to their husbands and shun infidelity and dishonesty if they succeed.