IDOWU PHILIPS ( IYA RAINBOW )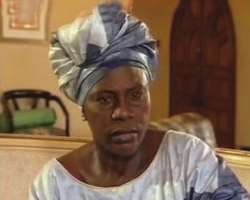 I am a daughter to Prophet (Baba Aladura Agbaye) Jacob Adebanjo Ifemade. My late mother was also a captain of the Cherubim and Seraphim (C & S) Church. I hail from Ijebu Ode, Ogun State and I have been a member of C&S since1969. I attended African Methodist School and Anglican Modern School for my primary and modern schools respectively. Later, I was admitted to a nursing school and upon graduation, I worked for 20 years as a nurse.
How I started
I started as a stage actress in my late husband's Osumare Theatre group. Even while I was working as a nurse, I still found time to go to location to shoot films. At 45 in 1986, I retired from nursing on the advice of the late Chief Hubert Ogunde. He (Ogunde) reasoned that since my husband died in 1984, there was the need for me to continue the family legacy. So, I went into acting full time. It was not easy at first, because I was formerly a salary earner.
In fact the first set of movies I acted in were Aje ni Iya Mi and Eru. For each of the movies, I was paid N250. Imagine a widow with five children surviving on such a meagre fee. It got to a point that I wanted to go back to nursing. A lot of people advised me against it. They thought my husband's name must not be forgotten and that I must keep on struggling.
Achievements
Today I must confess that theatre has paid off for me because I have now built a house of my own, bought a car, and three out of my five children are graduates. One of my sons is a very popular writer. His name is Femi Philips, popularly called Femi of Africa. He too stood by me in the days of my tribulations as a young widow.
Osumare and Ojo Ladipo Theatre
They were brothers from Afijio in the same Oyo State.
The name Iya Rainbow
My name is Idowu Philips, my late husband's group was called Osumare Theatre, meaning Rainbow. One day I went to act with some white men and in the course of acting, someone asked for the meaning of Osumare and I replied Rainbow! Then he said I should henceforth be called Iya Rainbow and that was it.
Films produced/acted
I have produced lots of movies like Alamose Eniyan, Alepo Rebi, Anikolapu, Omodupe Oluwa, Orisa Rebi, among others, but I have acted in over 500 movies.
Current production
I am working on a new script which will be out very soon Mewa' n Sele, meaning that a lot of things are happening in this world. It tells the story of a lady (Jemila) who wanted to travel abroad but gets killed by her husband. She soon travels abroad as a spirit and I meet her as someone she used to know in
Nigeria. She explains her predicament and persuaded me to give her children some gifts on my arrival in Nigeria. From there, her husband gets to know about her but I later took him to court.
The movie will reveal to people that spirits or ghosts do exist and are living among human beings. Spirits also remember where they come from but to avoid being discovered, they always deal with people they don't know. This is further explained in the movie as Jemila was nowhere to be found when I later returned abroad.
Limelight
A movie titled Asiri Nla by Jide Kosoko brought me into limelight. This is an interesting movie that is full of suspense. My sister in that movie is impregnated by my husband and I later find out. Before delivering the baby, my husband dies and the family insists we should resolve the issue peacefully. After the delivery, the child is flown abroad and days after, our family doctor confirms my own pregnancy.
Still strong at 63
I don't want to be referred to as an old and weak actress because I will act until I die.
Role model
I see no one as my role model in the acting profession but in terms of age and Christian services, I have people whom I admire a lot.
Marriage
I did not enjoy my marriage because my husband died a long time ago and since then, I decided not to re-marry. I have five children and they have all made me proud.
Stage/screen
I have also acted in a lot of stage shows like Alaafin Kanran, Bashorun Gaa, Alaafin Jaye, Onikoyi among many others. The stage makes an artist a thorough professional but it could very stressful and expensive. For instance, one needs to rehearse for about three months or more before mounting the stage but this is not so in the movie industry which is more profitable with less work.
Challenges
God has been my pillar of support. My late mother was also a great helper, she took care of my children whenever I went on location. But I usually make it a point of duty to go to their schools whenever I was around to supervise their education.
My mother
What I miss so much about her is that I no longer have a bed partner. Ever since the death of my late husband, we had always slept together and now she is gone. Then whenever I go to locations she was always there for me. Above all, my mother loved me so much, she had six of us and I was her only female child.
Happiest moment
This was when my son graduated from the university and I held his certificate in my hands. I could remember that I wept in the presence of those who were there that day and that was because my husband was not around to witness the day.
Turn off/policy
I hate liars. I respect discipline and punctuality in human beings.