RAPPER LIL WAYNE GIVEN PROBATION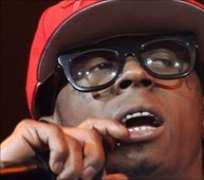 Rapper Lil Wayne has been sentenced to three years probation in Arizona on a drug possession charge.
The star – whose real name is Dwayne Michael Carter Jr – has been in a New York jail since March on an unrelated gun charge.
In 2008, the 30-year-old was arrested when police found drugs on board his tour bus.
He will begin his Arizona probation once he is released from prison, his lawyer said.
The star's plea of guilty led to other drug and weapons charges being dismissed.
"We're quite glad that we were able to wrap everything up," James Tilson told Reuters news agency.
"It's a favourable plea agreement that will allow Mr Carter to pursue his career."
When his tour bus was searched, authorities said they found nearly four ounces of marijuana, an ounce of cocaine, 41 grams of ecstasy and a 40-calibre pistol registered to the musician.
Last year the rapper won four Grammy awards including best rap album for Tha Carter III.