SADE, LIFE OF A SULTRY SONGBIRD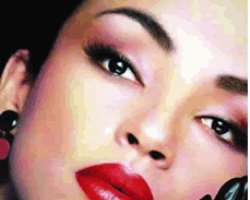 Sade
Her hour-glass beauty and exotic looks captivate her fans world-wide. Men desire her while her women folk aspire to be like her. Her velvety, sultry voice is capable of melting a heart of steel.
Sade Adu is a news maker, any day. Having traversed the music industry for decades, it looks like she has just begun. For the Nigerian-born entertainer, life is not a fairytale, after all.
Born as Helen Folasade Adu in Ibadan Nigeria, her father, Adebisi Adu, was a Nigerian-born economics professor while her mother, Anne, was a British nurse. Her parents met while Adebisi Adu was a graduate student at the London School of Economics. After marrying and having a son, the couple moved to Ibadan, where Adu took up a teaching job.
Little Sade was only four years when her parents separated. In 1963, she moved with her mother and brother back to England where they lived with her maternal grandparents. Upon graduating from nursing school, Anne settled with her two kids settled in a tiny town called Holland-on-Sea, where, according to a 1986 People magazine interview, '50 percent of the population was over 65 years of age.'
In an interview with Chicago Tribune, Sade would describe it as 'a miserable little seaside town full of go-carts, old ladies, cotton candy, and poodles.'
For Sade, dance clubs were ready escape from the neighbourhood from where she developed a passion for music
At 17, Sade took to fashion and design at St. Martin's College of Art at West End after which she launched men's clothing line with a friend. Her restlessness and desire to succeed saw her combining modeling jobs with fashion designing but her passion for the dance clubs could not be mistaken.
Although, she has conquered the world with her music, became incredibly famous and made enormous fortune, music was not her first choice. Providence opened the door for young Sade while her stunning looks was the icing on the cake which fate had prepared for her. She would become a backup singer for a musical group not without slamming the door on her face initially.
As a backup singer, Sade's hidden talent would soon be discovered and not long, she would take on the world from where her rise became astronomical.
Forming a band with some guys and with their first break came in 1983, it's been a deluge of laurels for the beautiful singer.
Sade is a not just a singer. She is a song writer and performer, too
The rich also cry, they say. While Sade Adu's musical career blossomed, her love life wasn't a sweet story. She had her fair share of bad relationships. She was forced out of public glare apparently, to recover from the emotional effects of a one-year turbulent marriage to documentary filmmaker, Carlos Scola.
Upon recovery from her failed marriage, the award-winning entertainer returned to the scene bigger and stronger sweeping the charts for 90 long weeks. Her single, 'No Ordinary Love,' earned her resounding accolades
In 1995, Sade took another career break, this time to have a baby with partner Bob Morgan, a record producer.
Until a new star emerges in the pop music firmament, Sade Adu remains a distinctive one in her genre.