My Mother Never Bothered About Number Of My Wives –KSA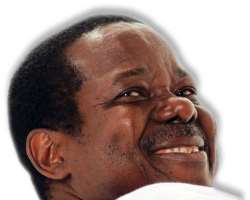 King Sunny Ade (KSA) is one of Nigeria's finest juju musicians who has been on the music stage for over three decades and yet remains relevant in the industry.
KSA, who has in the past talked passionately about his mother as the one who influenced his life, last week lost her (Maria Adegeye) to death at age 112.
Entertainment Writers Association of Nigeria (EWAN) last week paid a condolence visit to KSA at his Lagos residence and 'King', as he is called by some reporters, reminisced on his late mother, her impact in his life, how he received her death and on other issues pertaining to his late mother. Anthonia Soyingbe was there.
Did she give you any sign that she will die?
She asked me that how would I feel if I hear the news of her death and I instantly asked her if she wanted to die now. She jokingly reminded me that she was old and nobody should cry if she died. She warned me particularly not to cry but that I should celebrate her.
You went for a show when you got the news, did you have any sign while you were performing on stage?
For many years, I have never put on any outfit that is close to black but on that particular day I was adorned in an outfit that is very close to black, and people around me who knew me were astonished. After the show I had a call that my mother asked me to enjoy myself that she has gone to the great beyond.
At that moment when you received the news, what crept into your mind?
Everything just went blank because two days before she passed on I was told that she refused to talk to anybody but she told the lady who had been taking care of her for over a decade that she was going home. Along the line she had been advising the lady to take care of herself. The last time I saw her she told me to help her tie her headgear, which I did and she asked me to help her bring out the new cloth I bought for her, which she put on.
When you were tying the headgear, did you sense that she was going to die?
I sensed it really because normally I only rub her grey hair whenever I visit her.
What are those things that you would miss most about her passage?
I will miss her motherly advice because she remains the best counsellor I have ever met. I lost my father at a very tender age, she was my mother and she also doubled as my father. Coming down there she was a mother to all. Who will I call Maami now?
What is that thing that you felt she took away with her?
One is that name Mama Sunny and I use to call her my first wife. I will also miss her prayers, which have gone a long way in shaping my life; she calls me often to pray for me.
What was it like growing up with her when your father was no more?
She started living with me about 30 years back and ever since then I have became a different person. She is a giver, if you give her money now she will give it to another person and when you ask her why she will tell you that it is in giving that we receive.
Did she at any time in your career buy you any musical instrument?
Mami never did that. When I started she was against it because she said I am a prince and people are expected to sing for me and not me singing for people.
You have so many wives, was she comfortable with your polygamist nature?
I am saying this in the name of God, she never bothered about the number of wives I have rather she was only particular about peace around me. She never for once queried me about my marrying many wives.
What is that thing that often caused misunderstanding between you and your mother?
The only thing she did was warn me not to fight with anybody but that I should seek clarifications on issues before I react.
What is that thing you wish you had done for her before she died?
I have done it for her but she didn't see it. I built a house for her in Ondo State; it has a very big living room and nine rooms. She told me that she would go there after the raining season. She was even bothered that I was always persuading her to go and see the house and occasionally when she wanted to her grandchildren prevented her from going, as they were so fond of her they even told her not to mind me that she will be alone in the bush.
Did she ever discuss were she would want to be laid to rest with you?
No. She never wanted to die. She taught me to call the name of Jesus every time because that was her weapon. She was a peace-loving mother and she told me to emulate Jesus Christ in all that I do.
Were you expecting her death when she died?
No, I wasn't because I never wanted her to die. I am a lucky man for having a mother like her. There was a time I travelled out and they called me that she wanted to see me because she was very ill. I tried to speak to her on phone but she said she wanted to see me and when I saw her I cuddled her and asked her what the problem was and she told me she travelled. I was thinking that she would die then and that was about 10 years back. I still wish to see her around and cuddle her, whenever she wanted to send me on errand she called me 'Oko mi' (my husband) and I called her my first wife.
Why do you refer to her as your first wife?
My brother started it because we often joked that since her husband was no more we were her husbands.
What are the burial plans for her final journey home?
No plans yet but my family will meet to deliberate since I can't singlehandedly make decisions.
How many siblings do you have?
We were 11 but nine of my siblings are no more.
What do you intend to do to keep her memory alive?
I believe that God will give me the wisdom to do something in her memory. People have been suggesting lots of things to me about keeping her memory alive but I know when the right time comes God will lead me right.
Do you wish to be as old as she was?
Yes I do and I wish that my children take good care of me just as I took good care of my late mother.
Have you ever had cause to compare any of your wives with your mother?
I have never had cause to do that.
Who among your wives was close to your mother?
They were all close to her because they all stayed with her and took blessings from her. Sometimes I asked her who her best friend was among all my wives and she would say nothing. I asked such questions so as to appreciate the woman that took care of my mother best but she never disclosed that to me.
Have you cried since her death?
Though it is still like a dream to me but I haven't cried because she warned me before her departure not to cry. It is still a mirage to me; she is like Ali Baba because she had a very good sense of humour.
The burial definitely will be a carnival of sort in Ondo State, how will the burial affect Ondo State economically?
The first governor to call me after the death of my mother is my Governor (Olusegun) Mimiko. I don't know but the governor will make good use of the opportunity.
Since you received the news of her death, have you seen her in your dream?
I haven't had enough sleep much less of seeing her in my dream.
What were those secrets or advice she told you before her death?
I will want to keep that close to my chest, I don't want to divulge that because that is a treasure to me.
Is it in your linage for people to live for that long or was she just lucky to have lived that old?
In my maternal lineage they live long and her sisters are now very close to 100 years.
In a press interview you granted sometimes back you said she cooked for you, did she cook for you till she passed on?
No, she stopped that years back because of her health but she still monitored my food. I often asked her why she was always doing that and she said she wanted to ensure proper hygiene. Whenever they were cooking my food she came close and ensured that nobody talks while my food is being prepared, to keep saliva out of my food.
Don't you think her attitude was alienating your wives from performing their wifely duties to you?
No, when she cooked for me she made it available to everyone around.